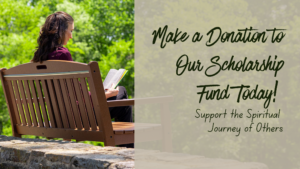 As the end of the year approaches, can you help us make our Scholarship Fund as robust as the ministry it supports? 
The Retreat and Conference Center, a ministry of the Sisters of Bon Secours, is a space of spiritual nourishment and healing hospitality. We are overjoyed to see people join us for a sponsored retreat that we host or as a guest of an outside business, non-profit, or civic group renting our space.  
We know that while many guests arrive here specifically looking for a spiritual retreat, many arrive for vastly different reasons. But often we hear that despite being here for a secular purpose the guests experience something sacred, being able to feel the Holy Spirit with them during their stay.  
For many organizations, taking time to retreat together is a necessity…and also a financial burden. Because of that, we have a Scholarship Fund that allows organizations to make the time for team building, deeper connection, and respite.  You can provide a welcoming home for people in need of healing, compassion, and liberation by making a donation to the Retreat and Conference Center's Scholarship Fund.
Samaritan Ministry, based in Washington, DC, is a recipient of a full scholarship for their HIV/AIDS Survivor Retreat. This non-profit brings men and women to Bon Secours Retreat and Conference Center each year for a weekend retreat to find healing and connection with others facing similar challenges. We often hear that arriving at Bon Secours is like arriving home: no judgement, no stigma. Just a nourishing place to build connection within their community. Being able to provide a loving environment is the epitome of bon secours (good help) as many within this group would otherwise be unable to afford this weekend experience.  
Your financial gift will provide loving care to someone who often feels like an outsider or unworthy. Please consider making a contribution to the Scholarship Fund today. Make an even bigger impact by making a recurring donation! 
Welcoming guests from all backgrounds brings such joy and life to the grounds! You can spread that joy to so many people with your financial gift!