"The place God calls you to is the place where your deep gladness and the world's deep hunger meet." -Frederick Buechner
We're so glad you are considering applying to Bon Secours Volunteer Ministry! After reviewing our website, prayerfully considering what God is calling you to do with the next step of your life, and being in touch with our staff with any questions or concerns, we hope that you are interested in applying to serve with BSVM!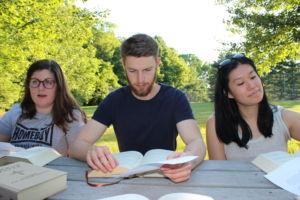 First Step: Let us know you would like to learn more about BSVM by filling out a Contact Form here on our website.  Upon receipt of the form, BSVM staff will be in touch about scheduling a Preliminary Discussion. The Preliminary Discussion is a time to for you to share about yourself and why you think Bon Secours Volunteer Ministry might be a good fit for you. This discussion is also a time for you to ask questions about the program and about the application process.
Second Step: Reserve your spot in an application round. BSVM has a limited number of application slots during each round. Fill out an Application Reservation Form to secure your spot two weeks before mailing your application.
Third Step: Complete your application.  In addition to completing the Contact Form and the Preliminary Discussion (which may take place after your application is completed), a full application includes:
Signed Application Form
Your Résumé
Your Essay
3 Reference Forms, one each of the below:

Employer: an individual who has supervised you in a paid position for at least six months.
Mentor: an individual who knows you well and can speak to your personal values and character as well as your experiences with service. Examples of a mentor include an adviser, a past volunteer coordinator, a youth minister, a campus minister, a pastor, or a professor.
Peer: an individual (someone other than a relative or significant other) with whom you have lived for at least a year.

Official transcript (this may be mailed separately by your institution)
Applications will be reviewed on the 15th of each month between January and April. Please see below for the deadline schedule. Applications will be reviewed in the order that they are received; early applicants have the broadest range of ministry site placement options available to them.
January 15 – Round 1 – Early Submission
February 15 – Round 2
March 15 – Round 3
April 15 – Late Submissions Deadline
We accept applications that are postmarked by these dates.
After April 15, please reach out to us at volunteer@bshsi.org to see if we are still accepting applications.
*3/16/2020 Application Update*
In response to the CDC's guidelines to slow the spread of COVID-19, BSVM staff will be working remotely as of 3/16/2020. Because of this, we are changing our application from being physically mailed to being emailed. Please email all parts of your application to volunteer@bshsi.org.
Your primary application form should be either electronically signed, or it should be printed, signed, and scanned. Email your signed application, resume and, application essay to volunteer@bshsi.org. Please use the subject line "*Applicant Name* BSVM Application"
Your 3 references should also either electronically sign their forms, or print, sign, scan them. References should email their forms to volunteer@bshsi.org with the subject line "Employer/Mentor/Peer Reference for *Applicant Name*"
If your school allows transcripts to be sent electronically, please have them sent to Paula Hastings at volunteer@bshsi.org
Application Forms to Download:
BSVM App 2020-2021 Service Year
Employer Reference
Mentor Reference
Peer Reference
Fourth Step:  The Interview Process. Typically, we interview candidates two or three times before the selection committee meets. Each interview takes about an hour. We contact you about our decision after the selection committee meets. Depending on the number of applicants and ease of scheduling interviews, it can take up to a month to move through the interview process.
Do you have more questions or want to talk through your discernment?
Contact our recruiter Paula at volunteer@bshsi.org or text 240-459-5124