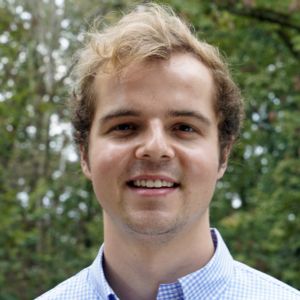 My name is Michael Newcome. I'm from Saint Paul, Minnesota, and I went to college at the University of Notre Dame in South Bend, IN. In college, I majored in Science Preprofessional Studies, and I minored in Catholic Social Traditions (CST). Through this interdisciplinary academic track, I pursued numerous service-learning experiences in Spanish-speaking environments in my own hometown as well as abroad in El Salvador and Mexico. These experiences helped me deepen my understanding of other cultures, and I learned how to respectfully navigate cultural and language barriers. These experiences draw me to the Care-a-Van clinic that serves the LatinX communities of Richmond, VA, where I will work with and learn from the healthcare providers at the clinic and the Hispanic/LatinX patients with whom they work.
In my free time, I like to play music. In high school, I played guitar and sang vocals in a band that performed at school events. In college, my musical interests expanded when the COVID-19 pandemic began. After being sent home from college for the pandemic, I had a lot of time on my hands. I found an affordable banjo and ukulele online, and I am learning how to play these instruments. My favorite type of music to play is guitar music that relies more on picking individual strings as opposed to strumming entire chords. These types of songs include Cherry Wine by Hozier and Let Her Go by Passenger. Playing music helps me relax and connect with other people.
In addition, I like to learn about trees. After searching for a summer job during the pandemic, I found a job selling trees at a tree barn in Minnesota. This job required tree knowledge, so I learned about the unique climate, soil, and sunlight needs of each tree. I applied this knowledge, along with my background in the sciences, to explain tree behavior and help customers find the right tree to meet their needs.
I look forward to living and learning with the Bon Secours Ministry Volunteers and the healthcare providers and patients at my volunteer site. This year, I hope to engage with and learn from patients that attend the Care-a-Van Mobile Clinics. Hearing their perspectives of healthcare and barriers to health in the U.S. will help me in my future career in the medical field as I partner with patients to help them take control of their own health.