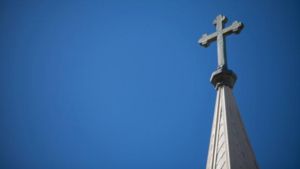 Statements are in English and Spanish.
The Sisters of Bon Secours USA are deeply grieved by the agony that is being experienced by immigrant families seeking asylum in the United States and are outraged that a morally unjust policy that separates children from their parents is being implemented at the southern border as part of our country's "zero tolerance" immigration policy.
We stand in solidarity with the United States Catholic Bishops, the Leadership Conference of Women Religious and people of good will throughout our country who are raising their voices to denounce such inhumane treatment of our migrant brothers and sisters.  We join the United Nations High Commission for Human Rights in condemning this practice that "amounts to arbitrary and unlawful interference in family life and is a serious violation of the rights of the child" and we call on our government to put an immediate halt to this immoral practice.
As women of compassion and healing we commit ourselves to advocate for legislation that puts an end to the practice of family separation that is causing untold trauma and suffering. We support legislation such as The Keep Families Together Act (S. 3036) and the Humane Enforcement Legal Protections (HELP) for Separated Children Act of 2018 (S. 2937/H.R.5950) that would end the practice of family separation and provide relief to impacted families.
To our migrant brothers and sisters, we promise to accompany you on your journey not only through our prayers for your safety and security but also through our continued advocacy for just and fair migration polices.  We commit ourselves to embody Jesus' clarion call to "welcome the stranger" so that your arduous journey to the United States will truly be a journey of hope.
Sisters of Bon Secours USA
Declaración sobre la Política de Separación Familiar de los Estados Unidos en la frontera de los Estados Unidos y México
Junio 18, 2018
Sisters of Bon Secours USA, están profundamente afligidas por la agonía que sufren las familias inmigrantes que buscan asilo en los Estados Unidos y están indignadas porque una política moralmente injusta que separa a los niños de sus padres se está implementando en la frontera sur como parte de nuestra política de inmigración "cero tolerancia".
Nos solidarizamos con los obispos católicos de los Estados Unidos, la Conferencia de Líderes de Religiosas y personas de buena voluntad de todo el país que alzan la voz para denunciar el tratamiento inhumano de nuestros hermanos migrantes. Nos sumamos al Alto Comisionado de las Naciones Unidas para los derechos humanos al condenar esta práctica que equivale a una injerencia arbitraria e ilegal en la vida familiar y es una grave violación de los derechos del niño" y hacemos un llamamiento a nuestro gobierno para que detenga de inmediato esta práctica inmoral.
Como mujeres de compasión y sanación, nos comprometemos a abogar por una legislación que ponga fin a la práctica de separación familiar que está causando incalculables traumas y sufrimientos. Apoyamos las legislaciones The Keep Families Together Act (S. 3036) y Humane Enforcement Legal Protections (HELP) for Separated Children Act of 2018 (S. 2937/H.R.5950) que pondrían fin a la práctica de separar a las familias y brindarían alivio a las familias afectadas.
A nuestros hermanos migrantes les prometemos acompañarlos en su viaje no sólo con nuestras oraciones por su seguridad, sino también a través de nuestra continua promoción de políticas de migración justas y equitativas. Nos comprometemos a encarnar el llamado de Jesús a "acoger al extranjero" para que su arduo viaje a los Estados Unidos sea verdaderamente un viaje de esperanza.