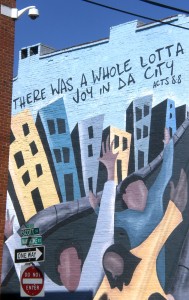 Bon Secours Volunteer Ministry
Bon Secours Volunteer Ministry, sponsored by the Sisters of Bon Secours, provides the opportunity for young adults to participate in the Sisters' commitment to justice in radical solidarity with the poor, the suffering, and those most in need.
The ministry volunteers carry this spirit forward in Baltimore, MD and Richmond, VA, where they live as neighbors and serve in ministry placements that improve the public health of their communities.
By sharing the Bon Secours charism of compassion, healing, and liberation, the ministry nurtures and sustains individuals in their personal and communal journeys towards transformation through service with others.