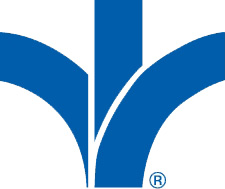 The fleur-de-lis, the lily or the iris, has been a symbol for centuries of an ancient flower from which new life springs forth. Its sturdy stem represents the ever-present God who is our strength and our source of sustenance.
The Bon Secours symbol is a modern version of the fleur-de-lis: from a single stem, three shoots arise showing our stability, our rootedness, the constancy of our mission; our ability to adapt to the present needs of those we serve; and our openness and agility in moving into the future with compassion, healing, and liberating love.
Thank you for partnering with us in this ministry, in caring for our communities and in working together to help birth God's dream of a world where indeed the "lion and the lamb shall lie together in peace, with a little child to lead them" – a world marked by peace and mutual love and care for all!
Fran Gorsuch, CBS
October 25, 2011
---
Symbolism in Religion and Art
In the Middle Ages the symbols of lily and fleur-de-lis (lis is French for "lily") overlapped considerably in religious art. Michel Pastoureau, the historian, says that until about 1300 they were found in depictions of Jesus, but gradually they took on Marian symbolism and were associated with the Song of Solomon's "lily among thorns" (lilium inter spinas), understood as a reference to Mary. Other scripture and religious literature in which the lily symbolizes purity and chastity also helped establish the flower as an iconographic attribute of the Virgin.
The three petals of the heraldic design reflect a widespread association with the Holy Trinity, with the band on the bottom symbolizing Mary. The tradition says that without Mary you can not understand the Trinity since it was she who bore The Son, a tradition going back to 14th century France, added onto the earlier belief that they also represented faith, wisdom and chivalry.
"Flower of light" symbolism has sometimes been understood from the archaic variant fleur-de-luce (see Latin lux, luc– = "light"), but the Oxford English Dictionary suggests this arose from the spelling, not from the etymology.
SOURCE: http://en.wikipedia.org/wiki/Fleur-de-lis#Symbolism_in_religion_and_art
---
1983 rationale for the new interpretation of the fleur-de-lis
It is 1983.
With the opening of this year, we of Bon Secours, have begun a new century — a second century of compassion and service in the United States. We have grown steadily, strongly, and well in these last 100 year. We are no longer a tiny group of Sisters forging beginnings in Baltimore, but a broad and vital network of men and women in Maryland, Pennsylvania, Virginia, Massachusetts, Michigan, and Florida, [as of 2013, also South Carolina, New York, and Kentucky, and no longer Massachusetts] whose lives share the commitment and work, the life and heart, that is Bon Secours.
It is fitting that we mark this second century with a symbol — one that will speak to our unity, our strong and emerging thrust; a symbol that will mark us, in al the places where we work and serve, as those who are united under the name, "Bon Secours."
From our Beginnings, a constant emblem that marked us, was the historical fleur-de-lis. Our new symbol takes its root from this emblem, but emerges now in contemporary form — clean, classic, memorable. As a Mark, this new graphic sign rises from a single base to show our stability, our unity, our source of faith. Its unfolding speaks of our newness, our outreach, our extension in service.
This new sybol, the Bon Secours Mark, is a sign of our common purpose and call to extend hands of strength, hearts of compassion to all; to be "Bon Secours" —
"Good help to those in need."