Application Deadline Schedule 
December 1 – Early Decision
January 15 – Round 1 Deadline
February 15 – Round 2 Deadline
March 15 – Round 3 Deadline
April 15 – Round 4 Deadline
Rolling Basis after April 15
Applications will be reviewed on December 1 and then the 15th of each month following between January and April, and on a rolling basis thereafter. Applications will be reviewed in the order that they are received and earlier applicants generally have a broader range of site placement options available to them. However, BSVM does not finalize placements until after you have committed to the ministry and the whole volunteer community is in place. See our Frequently Asked Questions for more information on placements. 
Application Process
First Step:  Interest Form & Preliminary Discussion [Timing: Fall/Early Spring]
Let us know you would like to learn more about BSVM by filling out the Interest Form here on our website. Upon receipt of the form, BSVM staff will be in touch about scheduling a Preliminary Discussion. The Preliminary Discussion is a time for you to share about yourself and why you think Bon Secours Volunteer Ministry might be a good fit for you. This discussion is also a time for you to ask questions about the program and about the application process.
Second Step: Interview Reservation [Timing: at least 2 weeks prior to application submission]
After further reflection on BSVM, let us know you're going to apply with an Interview Reservation form. This lets us know your application will be on the way soon, and we can reserve space on our calendars to talk with you more after your application is received! Please note that the interview process will not begin until your references have all been received, so you likely want to share the appropriate forms with your references around the same time you fill out your Interview Reservation Form (if you haven't already).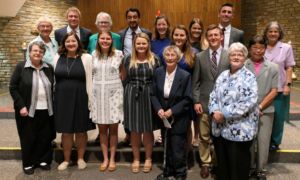 Third Step: Application Submission [Timing: December 1st followed by the 15th of each month Jan-Apr, then rolling]
Complete the Full Application, which includes:
Discernment Statement Review
Resume
Reflection Questions
References (Employer, Mentor, and Peer)
Official Transcript
Note: if you have not already submitted the Interest Form and had a Preliminary Discussion, this can happen concurrently with full application submission.
Fourth Step: The Interview Process [Timing: in the two weeks following application submission]
We will speak with you about your experiences and interest in BSVM during two interviews (totaling about 2-2.5 hours) and share more about the ministry in these conversations. Interviews will likely take place within two weeks of getting your application, as long as your application is fully complete, including all references submitted.
Fifth Step: Offer and Commitment [Timing: about two weeks after interviews conclude]
You can expect to hear back from us within about two weeks. If accepted, we expect an answer within a week. Once you make a commitment to BSVM, we will finalize necessary paperwork and continue conversation around ministry placement sites as the community takes shape.
Do you have more questions or want to talk through your discernment?
Contact our recruiter at [email protected].