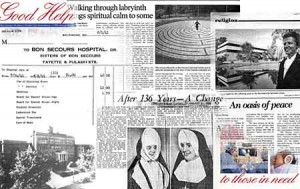 The archives function as a repository for material relevant to the Sisters of Bon Secours in the United States, dating from 1881 to the present. The collection contains materials on the founding, history, mission, and growth of the Congregation in the USA. Materials in our collection include:
founding documents
provincial administrative records and documents
vow registers
constitutions, prayer manuals
published & unpublished histories
provincial and general assemblies
programs, publications
records of provincial houses and convents
formation, vocation
Associates
jubilees and anniversaries (Sisters, Provincial, and Generalate)
records of the missions and apostolates throughout the United States and Ecuador
news clippings
audiovisual materials and photographs
artifacts (habits, memorabilia, awards, etc.)
Some material has also been collected about Bon Secours convents in other countries (France, Ireland, Great Britain, and Peru.)
Using the Collection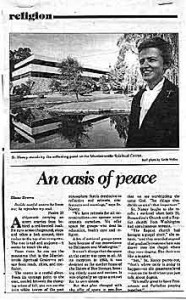 The Sisters of Bon Secours archives provide information for Sisters, Bon Secours staff, and serious researchers. Please note that while we try to meet the special needs of researchers, we do not allow infants, toddlers, or small children to be brought into the Archives.
Hours of Operation
For on-site study, we are open to researchers by appointment only. Please contact us to make an appointment. Response time for queries varies according to the nature of the request and the scope of research needed.
Access
The reference and research services offered by the Archives are designed to accommodate requests for information while ensuring the long-term preservation of the collections and the privacy of its individuals. Duplication services may be available at cost; the loan of materials is generally not permitted.
Donations to the Collection
We are interested in hearing from people who may have documents or items they believe have historical value to the Sisters of Bon Secours history.
For more information contact:
Sister Mary Shimo, CBS
Sisters of Bon Secours Archives
Jenifer Kirin, MLS
Special Collections Archivist
1525 Marriottsville Road, Marriottsville, Maryland 21104
410-442-3111
[email protected]