It takes about $16,000 to support one volunteer for the year, including housing, health insurance, stipend, transportation, and other support.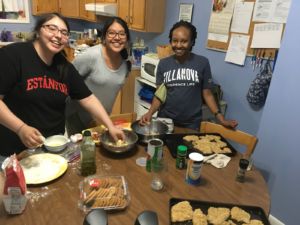 A contribution of:
$15 buys a book central to a volunteer's formation
$30 covers a volunteer's food costs for two weeks
$50 helps the volunteer community maintain their car for transportation
$150 sponsors a volunteer's retreat to process his or her service experience
$325 pays one volunteer's monthly stipend
Donations can be sent to our office or made online through PayPal.  Please make checks payable to Bon Secours Volunteer Ministry.  As a 501(c)3 organization, all donations to BSVM are tax-deductible.