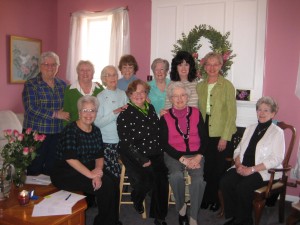 If you would like to learn more about the Bon Secours Associates and how to become involved, please fill out the information below and click Submit. You will be contacted in welcome so that we may answer any of your questions. If you live in one of the areas where we have an active Associate group, you will be contacted with information about the local group and when and where they meet, so that you may visit.
Formation and Commitment
There is a formation period to assist an inquirer in learning more about Associate commitment and about the Sisters of Bon Secours: their mission, history and spirituality. After visiting a local Associate gathering for a minimum of four months, interested persons who wish to become Associates are mentored on a one-on-one basis by another Associate and a Sister; others receive formation at the monthly gathering in the context of the whole group. After this initial period, one in invited to make the commitment as an Associate of the Sisters of Bon Secours. The commitment is for two years and is renewable every two years. Lifetime commitments are offered after one has made three consecutive two-year commitments.
You may also contact our office directly at 410-442-3131 or email us at [email protected]