There are quite literally hundreds of post-graduate service programs to consider, and likely a few dozen that upon first glance look relatively similar to Bon Secours Volunteer Ministry (BSVM). So, what is it that really sets us apart? Why might BSVM  be the right program for you?
If you are interested in any of the following program qualities, it would definitely be worth reaching out and having a preliminary conversation with us.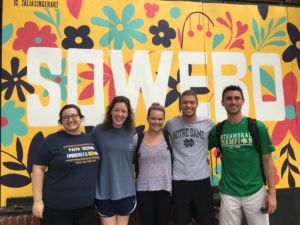 Live where you serve: When we say 'live where you serve,' we mean it. In both Baltimore and Richmond, our volunteers live within walking distance of mostministry placement sites. Volunteers are not showing up during the day, and then heading home elsewhere for "regular" or non-service life. You will call the same neighborhood home as many of the patients, clients, and program participants with whom you build relationships. You may see a child at the playground across from your house who your community member teaches, you may cross paths at the bus stop with a patient you conversed with at the hospital. You will share spaces and struggles, beauty and brokenness, streets and parks and sidewalks, with those you serve. Why does this matter? Being immersed in your neighborhood, in service and in daily life, demonstrates genuine commitment to the community and allows deep relationships to flourish. 
Focus on faith formation: The program pillar "grow spiritually" is the foundation for all of our other pillars, and for the ministry year as a whole. As you experience service, daily life, and relationship and community building, staff guides you in grounding these experiences in faith. In particular, we focus on Catholic Social Teaching and prayer, in many forms, to help complement and enrich everyday life. You are invited and supported in deepening your spirituality, developing a sense of openness towards the diversity of others' spirituality, and letting that spirituality and openness shape you and your connections to community.  Why does this matter? By not just serving but journeying together spiritually throughout the year, you are invited to recognize Christ within all those around you so you may grow closer to God. 
Combat racial injustice as neighbor, not savior: Our program pillar of "practice God's justice" is rooted in volunteers having the opportunity to form relationships with neighbors, often Black neighbors who have suffered from injustice in the form of racism. Building relationships becomes the bedrock for new insight, including recognizing privilege, understanding structural violence, and leaning into radical solidarity with those who have suffered, even if you have not suffered in the same way.  Why does this matter? Living as true neighbors eliminates the common "me helping them" pitfall of volunteering, and instead fosters reciprocal relationships where we offer our gifts, experiences, and struggles to one another, and move forward addressing challenges together. 
Improve the public health of your community: Public health work aims to remove systemic barriers that have resulted in health inequities and reduced quality of life. Bon Secours Volunteer Ministry supports volunteers in identifying such barriers, like poverty, racism, and other forms of oppression, and accompanying neighbors as they overcome them. Be it through education, clinical health work, housing, or a variety of other placements, volunteers focus on addressing social determinants of health and chipping away at injustice in pursuit of improving quality of life for those with whom they serve. Why does this matter? Because all service work regardless of placement is linked to community wellness, as a group you will see cohesive themes emerge and better learn and process together what equity and opportunity looks like, both denied and fulfilled.  
Be united under a single mission: Relatively unique to our volunteer ministry, all volunteers work as part of Bon Secours Mercy Health System or ministries sponsored by the Sisters of Bon Secours, as opposed to diving into a wide variety of community organizations (and missions) across a city. This means there is a strong, fluid connection between the overarching mission of our program and the mission at the core of every workday task, every fellow volunteer and colleague's job description, and every service provided to a program participant. All of our pillars tie not just to BSVM but also to your daily ministry placement, at whatever site you serve. Why does this matter? Being "good help" to those in need has been the passion of the Sisters of Bon Secours since 1824. While you step into unique responsibilities at your particular ministry placement, you and your fellow volunteers, your coworkers, and your site supervisor, are all shaped by the same values of compassion, healing, and liberation.
Receive in-depth staff support: With a strong staff to volunteer ratio, our ministry is set up to offer as much to you as you are offering to us. Staff are fully involved in supporting the volunteer community with our program pillars, primarily through weekly CommunityNights, weekly Morning Reflection, and with household logistics as needed. You will also have individual staff support for structured accompaniment and accountability throughout the year, and ample opportunity for more informal discernment and development conversations along the way.  Why does this matter? As enriching and powerful as post-graduate service can be, it also takes intentionality, consistency, and effort. Having the close involvement and support of staff, who are trained and practiced in moving through the volunteer experience, allows you to both give and get the very most out of your time.
During her volunteer year, 2010-2011 Ministry Volunteer Kat Pormento remarked about the beauty she encountered by living where she served:
"I am not sure what I expected before coming to Southwest Baltimore, but what I have experienced thus far has exceeded my imagination. Constantly, I find myself to be more capable of learning and loving than I ever thought possible. I attribute this to my heart opening to a community I was graciously invited to join. Most of the patients whom I serve live in the West Baltimore community. Knowing that they are also my neighbors makes me feel closer to them." Read the rest of her reflection about living where she served in this blog post.