Whether just starting to think about post-graduate service or well on your way to applying for Bon Secours Volunteer Ministry (or anywhere in between), we know you might have questions about our ministry! Please consider the responses below to some of the most frequently asked questions, and reach out to [email protected] if you have further questions to explore.
About Serving as a BSVM Volunteer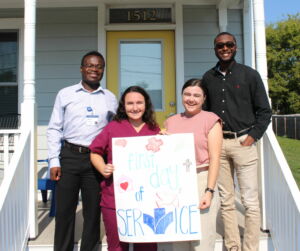 How is my service placement determined?
BSVM does not finalize placements until after you have committed to the ministry. Discerning your placement is seen as a mutual decision making process that involves understanding your unique experiences and gifts, as well as your future hopes, and how those intersect with the needs of the neighborhood in which we live and serve. Consideration and conversation regarding your placement begins as early as the Preliminary Discussion and carries through the application process. When the full volunteer community is in place, staff will conclude prayer, reflection, and dialogue with each volunteer to arrive at final ministry placement site decisions.
How much is the stipend? What is it used for?
Volunteers receive a monthly stipend of $325 (before taxes). Since BSVM provides housing, health insurance, and a community car, the stipend is primarily used for food, gas, and personal expenses like activities around the city, travel to family or friends, or ABC. Though a modest sum, the stipend is carefully thought out and a major component relating to our program pillar of simplicity.  Volunteers are often surprised and deeply affected by this pillar. Read a reflection from a former volunteer on simple living here.
What if I have student loans? 
It is often possible to have student loans deferred during a year of post-graduate service. Volunteers are responsible for investigating this option and for completing all paperwork related to any loans. BSVM staff can provide proof of your participation in our ministry year to support you in applying for deferral. In 2024, Volunteers will be eligible for the AmeriCorps Education Award, which provides a grant that can be used for prior loans or future graduate school.
Can I have another job while I am a volunteer?
BSVM expects volunteers are not involved in outside work or classes. Our ministry experience is hands-on and robust; it's an intentional commitment towards spiritual formation which involves full schedules centered on service and community life.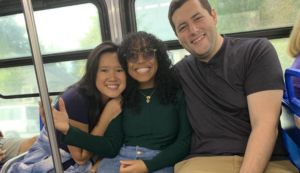 While there is certainly free time for leisure, building and maintaining relationships with friends and family, and exploring the neighborhood and city, there is not appropriate time to devote to separate work or schooling.
Can I apply to graduate school/professional school while I am a volunteer?
Yes! Every year we have volunteers applying to school during their time of service. While we expect volunteers to keep in mind and prioritize their commitment to community life (including scheduling interview travel to minimize conflict with BSVM service and formation), there is ample time and support to complete applications and pursue next steps, including interviews if needed. Please note, however, that there is not time to prepare for and take the MCAT.
About Living as a BSVM Volunteer 
How many volunteers are there?
Our community consists of about 10-12 volunteers, split evenly between the Baltimore and Richmond sites. While located in two cities (about three hours apart), we view ourselves as one community, with orientation, retreats, and many facilitated formation activities taking place together.
Where do volunteers live?
Volunteers live together in a BSVM house in either Baltimore or Richmond. The house is located in the same neighborhood where volunteers serve.
Will I be safe living and serving as a BSVM volunteer?
Because our ministry is structured around the Sisters' commitment to justice in radical solidarity with the poor, suffering, and those most in need, we live and serve in neighborhoods that have long been marginalized and under-resourced. Volunteers do need to have the willingness to operate in an urban landscape and for some, this means growing outside their comfort zone. Volunteers will be supported in taking safety seriously and approaching it from a stance of relationship building and presence. We see both our Baltimore and Richmond neighborhoods as sacred places where there is beauty alongside challenges, and volunteers are encouraged to meet their neighbors, participate in neighborhood association meetings, and be a visible part of the community. BSVM provides nonviolence training during orientation and hosts a security officer from the hospital early in the year to offer advice and answer any questions volunteers may have. While we can never guarantee safety, BSVM works diligently to help volunteers transition to living and working in a new setting, and to make it home.
What are the weekly obligations of living as a BSVM volunteer?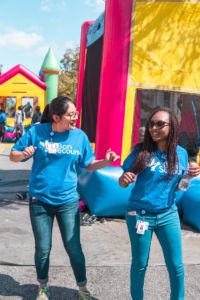 In terms of formal commitments, volunteers should plan to spend at least two full evenings a week with fellow volunteers, as well as a morning reflection once per week at the start of the service workday. Dinners are a special time and enjoyed together most nights (and you'll be in charge of cooking, some of the time!).  You can expect to also contribute to household logistics like grocery shopping, cleaning, etc. Our Day in the Life page helps illustrate what a day might look like as a volunteer!
Is there any vacation?
There are five traditional holidays where work is not expected (Thanksgiving, Christmas, New Year's, Good Friday, Memorial Day, and 4th of July). Volunteers from both Baltimore and Richmond celebrate Thanksgiving together, and volunteers receive 10 vacation days which are taken over the breaks scheduled during our liturgical seasons of Christmas and Easter. Typically, this is 8 days at Christmas and 2 at Easter.  In the past, volunteers have successfully saved from their stipends together to ensure that all can travel to loved ones for Christmas.
What opportunities are there for spiritual development? 
Spiritual growth is the pillar that anchors all our ministry pillars. As you experience service, daily life, and relationship and community building, staff guides you in grounding these experiences in faith. In particular, we focus on Catholic Social Teaching and prayer, in many forms, to help complement and enrich every day life. You are invited and supported in deepening your spirituality, developing a sense of openness towards the diversity of others' spirituality, and letting that spirituality and openness shape you and your connections to community.  There are three retreats built into the service year, in the fall, winter and spring. BSVM also offers the opportunity for volunteers to meet with a spiritual advisor for spiritual direction.
What opportunities are there for professional development? 
Your placement will be in a workplace setting and your experience there guided by a site supervisor, who works with BSVM staff to tie professional development to program formation. You will be exposed to a wide range of colleagues and professional opportunities in your day-to-day work, as well as meet and learn from BSVM's well-established support network across Baltimore and Richmond, which includes alumni, nonprofit organizations, neighbors, businesses, and more, in both cities.
About Applying to be a BSVM Volunteer
Who is a typical Bon Secours volunteer?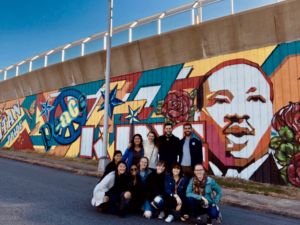 BSVM carefully discerns with prospective applicants to determine whether or not an individual will be a good fit for the BSVM community. Volunteers are typically men and women between 21 and 25 who have recently graduated from college (or have relevant life experiences) and are interested in practicing justice by building relationships based in service.
When does the year start and end?
The Bon Secours Volunteer Ministry program lasts about 11 months.  It begins in late August/early September and ends at the end of July. Volunteers commit to serve for the entire 11 month period when they join the program.
How do I apply? 
If you would like to keep discerning with us, the first step is an Interest Form, followed by a Preliminary Discussion. After that, the full application process gets underway. Please see our Timeline and Process page for full details on our application.
What is the timing of the application process?
Applications are accepted beginning October 15th with a December 1, Early Decision deadline, followed by a submission deadline on the 15th of each month thereafter from January – April. Rolling basis after April 15.
When/how can I speak more with BSVM staff?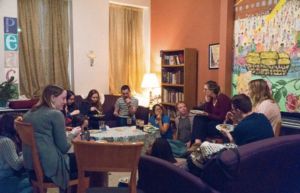 Please consider joining us for a virtual event, email to see if/when we'll be coming to your campus virtually or in-person, or ​​email [email protected] to set up a conversation!
"If you are what you should be, you will set the whole world on fire!"- St Catherine of Siena