Paris, 1824- Amidst the devastation following the French Revolution, a group of 12 women, led by the Spirit, came together to form the Congregation of the Sisters of Bon Secours, French for "good help". The sisters risked leaving the security of their cloister to nurse the sick and dying in their homes; a ministry at that time untested in the Catholic Church. Their purpose then and NOW-to help bring people to wholeness and to the Gospel message that there is a God who loves us.
Coming to the United States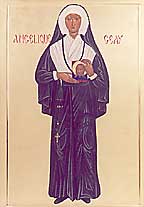 In 1881, the congregation was invited by Cardinal Gibbons to the Archdiocese of Baltimore and crossed the Atlantic to establish a health care ministry in Baltimore, Maryland. By 1909, convents were established in Washington, D.C. and in Detroit, Michigan.
The Sisters of Bon Secours provided the world's first recorded formal home health care service as well as the first day care facility in Baltimore in 1907 to help working mothers whose only alternative was to place their children in orphanages. St. Edmond's Home for Crippled Children, established in 1916 in Darby, PA, was the first Catholic home for the physically challenged.
The Sisters have a long tradition of willingness to take risks in pursuit of innovation, growth and extension of mission.
The Sisters of Bon Secours established their first hospital in Baltimore in 1919 and opened their second, in Grosse Pointe, Michigan, in 1945. By 1980, the Sisters had established and/or managed several Catholic hospitals, long-term care facilities and other health care services.
The Bon Secours Health System was formed in 1983 to provide skilled, unified management and professional resources for all Bon Secours health care operations while preserving Jesus' healing mission and Bon Secours' tradition of providing quality care to all, especially the poor, sick and dying. Today, Bon Secours Health System is sponsored by Bon Secours Ministries, a Board consisting of four Sisters of Bon Secours and three lay board members.
The sponsored ministries of the Sisters of Bon Secours, USA include: The Retreat and Conference Center at Bon Secours, Marriottsville, MD; Sisters Academy, Baltimore, MD; Mercy Housing, Denver, CO. and Asylee Women Enterprise, Baltimore, MD.
Learn more about the history of the Sisters of Bon Secours by exploring our Archives, a repository for material relevant to the Sisters of Bon Secours in the United States, dating from 1881 to the present. We also now have A Century of Caring 1881 – 1981 available from our Archives page.