Placements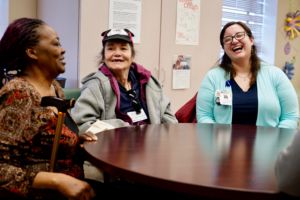 We offer the opportunity to serve in a healthcare, education, or social service ministry within the Bon Secours Health System. In recent years, volunteers interested in the healthcare field have ministered in Behavioral Health, in an Emergency Department, on an Inpatient Unit, in public health, and in a mobile health clinic. They have also served young children and parents at Bon Secours Family Support Center as well as middle school girls at a tuition-free public school called Sisters Academy. While these are examples of recent ministry placement sites, please know that ministry placement sites evolve and change with the needs of the community.
The placement site is decided upon after the volunteer is accepted into the program and commits to serve with BSVM.  Applicants who apply by the Priority Deadline of January 15 will have the broadest selection of placement sites available to them. During the interview process, future volunteers and staff mutually discern which site best uses the volunteers gifts and addresses the needs of the community. Begin your application here.
In general, each position:
Provides the volunteer with the opportunity to directly serve people who suffer from economic injustice and, therefore, are underserved and vulnerable.
Enables the volunteer to provide a service that otherwise would not be accomplished or which expands the mission of the placement site.
Utilizes the unique gifts and talents of the individual volunteer.
Keeps office tasks such as filing or paperwork to a minimum, only as part of the expected responsibilities and not as the volunteer's primary role.