"Faith is taking the first step even when you don't see the whole staircase." -Martin Luther King, Jr
If your son or daughter is looking at giving a year of full-time service to Bon Secours Volunteer Ministry, you are probably feeling many different emotions. Fortunately, you are not the first person to go through this. Here are some reflections from the parents of our past volunteers to provide a little insight and comfort as you discern with your son or daughter about this program.
The writing below was originally published in the Issue 24, Fall 2017 edition of The Companion
David Ceponis, father of Sarah Ceponis (BSVM 2011-2012), reflects on his daughter's year of service. He beautifully articulates how BSVM impacted, and continues to impact, the life of both Sarah and her family. 
As Sarah progressed through her volunteer year with Bon Secours Volunteer Ministry, Peggy (her mom) and I became increasingly aware of the depth and breadth of her work. This was not merely an extended high school mission trip. Sarah's work in a challenged, inner-city, Baltimore neighborhood, was truly a labor of love, sacrifice, and enduring commitment. Along with the other Bon Secours Volunteer Ministry community members, she and her peers lived out the Gospel message by immersing themselves in the lives of the people that they served.
This exercise was not a "we-they" interaction—"let's get our hands dirty and help out for awhile"—it was a deep-rooted, personal collaboration with disenfranchised families living in poverty. She lived, worked, and shared in their lives. Sarah's stories about her work animated my understanding of her emerging convictions and commitment to real social justice. She not only taught the children under her care and in her classroom; she became part of their lives, visiting their homes, befriending their mothers, finding books, crayons, and multiple resources to help them. Her efforts reminded me that compassion is best lived out by sharing in the trials and challenges of those in need, not merely intervening and then leaving.
As Peggy and I observed the Bon Secours year unfold, our own sensibilities about the poor and underprivileged expanded. We recognized the pure joy Sarah was experiencing in her work. I learned to laugh as Sarah related the fun of weekly shopping expeditions in which the volunteers learned to live simply. I also enjoyed hearing her stories of the volunteers sharing one aging car. This amazed me! Sarah's moving accounts of the many children in her life (and their mom's) shook my understanding of life in an underprivileged neighborhood to the core. I contemplated how little I knew about the day-to-day difficulties people routinely face in a low-income, inner-city, neighborhood. I wondered out loud why God gave me and my family so many privileges and advantages relative to Sarah's "children" and their families. But most of all, I thanked God for the special year my daughter was going through. It was cathartic for her and us. Her work with Bon Secours Volunteer Ministry reminded me that life's greatest lessons are not taught in a classroom, but played out in how we live our lives. Bon Secours Volunteer Ministry was and is the perfect starting point for a life-long journey of service and commitment to serving the underprivileged.
More Reflections from Parents of Former Volunteers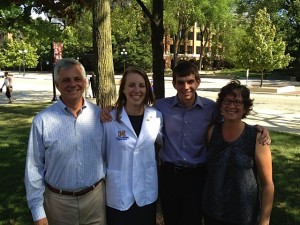 Janine McDonald says when she learned that her daughter Kate was thinking about joining Bon Secours Volunteer Ministry she was "very proud of Kate for her willingness to take this opportunity for spiritual growth." Although Janine was initially concerned for Kate's safety, she felt better after visiting her daughter for her birthday and learning "about the classes Bon Secours gave them about safety". Here's more of what Janine shared about her experience.
Q: What positive changes have you seen in your daughter either while serving in the program or after finishing her time of service?
A: Kate is much more aware of social issues and now has very strong opinions. She is interested in global issues and her world has expanded greatly.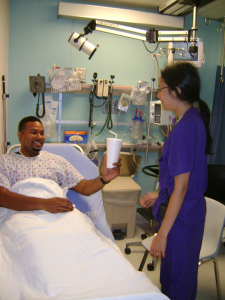 Q: Do you feel that your son or daughter gained any professional skills, better sense of direction, or any other practical benefits from completing the program?
A: Because she worked in the ER, she developed skills in conversing with complete strangers. She also developed the ability to comfort people in stressful times, which will serve her well as a physician.
Q: Do you have any advice or insight that you would like to share with other parents of prospective Bon Secours volunteers?
A: It's a wonderful program! I would encourage you to encourage your child to "throw themselves" totally into the program. It's hard, but try to allow them live as the program is designed — with minimal help (monetary, packages, etc.) from home. It's amazing how little they really need and it's a wonderful opportunity for them to experience that.
Sarah Ceponis' dad (writing featured above) and mom also had this to say about her experience: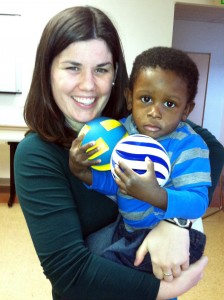 "Bon Secours infused in my daughter an indelible sense of duty to the poor and needy… She learned about the cycle of poverty through the faces and lives of those who are born into it.  She is now planning to pursue a Master's degree in Public Health in order to obtain the tools to structurally and radically change the cycle of poverty at its origins.  Your child will exit the program in a year, richly endowed with  new information about the world and herself that will persist for a lifetime."  -Dave Ceponis
"I think she learned life skills which she will transfer to every aspect of how she lives her life professionally and personally.  Professionally, she learned how to be part of a team at Bon Secours… By living simply, she matured and learned empathy for those who live without every day.  My advice [to parents whose children are considering joining BSVM] is to encourage it 100% and support this endeavor.  It will undoubtedly be a meaningful and rewarding experience." -Peggy Ceponis
Review our benefits or contact us with further questions.