"Faith is taking the first step even when you don't see the whole staircase." -Martin Luther King, Jr
If your son or daughter is looking at giving a year of full-time service to Bon Secours Volunteer Ministry, you are probably feeling many different emotions. Fortunately, you are not the first person to go through this. Here are some reflections from the parents of our past volunteers to provide a little insight and comfort as you discern with your son or daughter about this program.
The writing below was originally published in the Issue 24, Fall 2017 edition of The Companion
David Ceponis, father of Sarah Ceponis (BSVM 2011-2012), reflects on his daughter's year of service. He beautifully articulates how BSVM impacted, and continues to impact, the life of both Sarah and her family. 
As Sarah progressed through her volunteer year with Bon Secours Volunteer Ministry, Peggy (her mom) and I became increasingly aware of the depth and breadth of her work. This was not merely an extended high school mission trip. Sarah's work in a challenged, inner-city, Baltimore neighborhood, was truly a labor of love, sacrifice, and enduring commitment. Along with the other Bon Secours Volunteer Ministry community members, she and her peers lived out the Gospel message by immersing themselves in the lives of the people that they served.
This exercise was not a "we-they" interaction—"let's get our hands dirty and help out for awhile"—it was a deep-rooted, personal collaboration with disenfranchised families living in poverty. She lived, worked, and shared in their lives. Sarah's stories about her work animated my understanding of her emerging convictions and commitment to real social justice. She not only taught the children under her care and in her classroom; she became part of their lives, visiting their homes, befriending their mothers, finding books, crayons, and multiple resources to help them. Her efforts reminded me that compassion is best lived out by sharing in the trials and challenges of those in need, not merely intervening and then leaving.
As Peggy and I observed the Bon Secours year unfold, our own sensibilities about the poor and underprivileged expanded. We recognized the pure joy Sarah was experiencing in her work. I learned to laugh as Sarah related the fun of weekly shopping expeditions in which the volunteers learned to live simply. I also enjoyed hearing her stories of the volunteers sharing one aging car. This amazed me! Sarah's moving accounts of the many children in her life (and their mom's) shook my understanding of life in an underprivileged neighborhood to the core. I contemplated how little I knew about the day-to-day difficulties people routinely face in a low-income, inner-city, neighborhood. I wondered out loud why God gave me and my family so many privileges and advantages relative to Sarah's "children" and their families. But most of all, I thanked God for the special year my daughter was going through. It was cathartic for her and us. Her work with Bon Secours Volunteer Ministry reminded me that life's greatest lessons are not taught in a classroom, but played out in how we live our lives. Bon Secours Volunteer Ministry was and is the perfect starting point for a life-long journey of service and commitment to serving the underprivileged.
More Reflections from Parents of Former Volunteers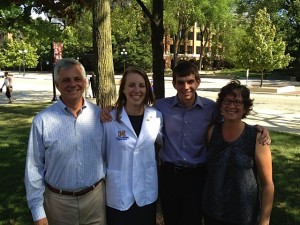 Janine McDonald says when she learned that her daughter Kate was thinking about joining Bon Secours Volunteer Ministry she was "very proud of Kate for her willingness to take this opportunity for spiritual growth." Although Janine was initially concerned for Kate's safety, she felt better after visiting her daughter for her birthday and learning "about the classes Bon Secours gave them about safety". Here's more of what Janine shared about her experience.
Q: What positive changes have you seen in your daughter either while serving in the program or after finishing her time of service?
A: Kate is much more aware of social issues and now has very strong opinions. She is interested in global issues and her world has expanded greatly.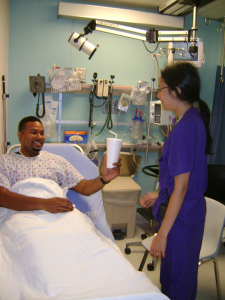 Q: Do you feel that your son or daughter gained any professional skills, better sense of direction, or any other practical benefits from completing the program?
A: Because she worked in the ER, she developed skills in conversing with complete strangers. She also developed the ability to comfort people in stressful times, which will serve her well as a physician.
Q: Do you have any advice or insight that you would like to share with other parents of prospective Bon Secours volunteers?
A: It's a wonderful program! I would encourage you to encourage your child to "throw themselves" totally into the program. It's hard, but try to allow them live as the program is designed — with minimal help (monetary, packages, etc.) from home. It's amazing how little they really need and it's a wonderful opportunity for them to experience that.
Sarah Ceponis' dad (writing featured above) and mom also had this to say about her experience: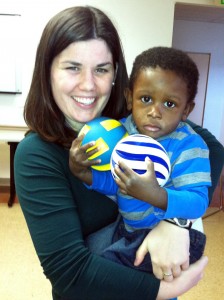 "Bon Secours infused in my daughter an indelible sense of duty to the poor and needy… She learned about the cycle of poverty through the faces and lives of those who are born into it.  She is now planning to pursue a Master's degree in Public Health in order to obtain the tools to structurally and radically change the cycle of poverty at its origins.  Your child will exit the program in a year, richly endowed with  new information about the world and herself that will persist for a lifetime."  -Dave Ceponis
"I think she learned life skills which she will transfer to every aspect of how she lives her life professionally and personally.  Professionally, she learned how to be part of a team at Bon Secours… By living simply, she matured and learned empathy for those who live without every day.  My advice [to parents whose children are considering joining BSVM] is to encourage it 100% and support this endeavor.  It will undoubtedly be a meaningful and rewarding experience." -Peggy Ceponis
The writing below was originally published in the Spring 2021 edition of The Companion
Parents often play an important role in a prospective volunteer's discernment of a year of service. If their child chooses to say yes to service,  parental support of and interest in their child's experience also impacts the  service year.  BSVM alum and current BSVM Volunteer Recruiter, Paula Hastings (BSVM '18-'19) is blessed to have strong parental support for her choice to dedicate a year of her life to service. 
When Paula's mother, Mary Vatterott Hastings, was asked how she saw her daughter grow during Paula's time with Bon Secours Volunteer Ministry, she had much to say. As a parent of several children who committed to serve during their gap year and as physician who has worked in academic medicine, Mary offers insight and a unique perspective on the benefits of serving with BSVM.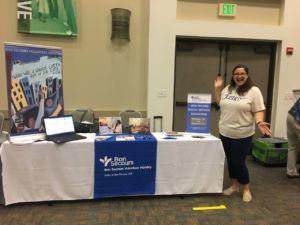 Q: How did you see your daughter grow during her time with BSVM?
A: I saw my daughter grow in her faith during her time with BSVM. The curriculum prepared her externally for a life of service while strengthening her inner life and jumpstarting her faith journey.  She grew in compassion and understanding as she walked with those who are marginalized and heard their stories. These opportunities for empathy are a tremendous asset for young adults to experience no matter which professional path they choose. Paula grew in her appreciation and practice of doing things with intention. Her choices to live simply and nurture her prayer life are an example to the rest of us. She has enhanced her communication skills, especially those surrounding difficult conversations. These will serve her professional life and her future personal relationships.
Q: Were you concerned about Paula not getting a 'real job' after graduation? How were those concerns allayed?
A: Our life job is to grow into good human beings and to be exposed to areas outside of our sphere.  Time with BSVM does just that. It will enhance who your child is in a positive way for the rest of their life.
Paula did a long and thoughtful discernment process before joining BSVM, so I trusted that she made the decision that was right for her. As the current BSVM Volunteer Recruiter, I see her walking this discernment path with prospective applicants to make sure it is the best fit for all involved. If parents have concerns about their child delaying entrance into grad school, I'd tell them that time in service will help your child grow as an individual and have better insight into what will be the best direction for them in the future.
A year of service can also prepare your child to mature into a well-rounded adult. I was on the admission committee in my medical school and helped choose residents for several different Family Medicine residencies. We were able to see a higher level of focus and maturity in those who had done a service year.  When there is a pool of applicants that are all very qualified, one must look for evidence of commitment and being well-rounded.
Q: Since you have had more than one child participate in service programs, what set BSVM apart from other programs?
A: My other children have also done service years after college. BSVM stands out in that it has an intentional approach toward community living in the setting of individual faith formation. Paula's BSVM community was more focused on interpersonal relationships and of being supportive of one another than other communities I had seen. I was impressed by her community members and witnessed the close bonds that they had formed. I was pleased to see their deep level of commitment to living together with intention.  Her experience of community was much richer than a house where people lived together while in college or while working a first job. She was also able to gain from her interactions with the Catholic Worker House located next door to the volunteer house.
Q: What would you say to parents who may have reservations about their child doing a service year?
A: Trust your child.  BSVM is steeped in helping your child follow the right path for him or her.  I think your young adult is taking a very thoughtful and courageous choice. Trust that the Spirit is leading them where they need to be.
The writing below was originally published in the Summer 2022 edition of The Companion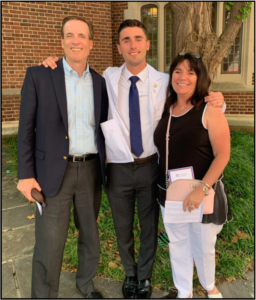 "I would like to take a gap year," were words that frankly raised a small amount of concern for my wife and me as we wondered how this would impact our son's ability to get into medical school, given he had worked so hard through his four years of college at Notre Dame. But when Christian sat down with us and passionately explained the service opportunity at Bon Secours Volunteer Ministry, and the work he would be doing to both immerse himself within and serve the Baltimore Community, we quickly came to realize this was exactly what he needed to do. There are certain things you can't learn from a book, a lecture, or a lab, but you must experience in life, and within the BVSM program, Christian was given the unique opportunity to live daily within the intersection of his faith, his pursuit of medicine, and his desire to serve those in need.
The house that he stayed in was sparse and situated well within the community he served, and within five minutes of meeting the housemates he would be sharing it with, we knew he had found himself a home. He told us many stories of how they shopped, prayed, and lived simply as a family, and he developed deep friendships that he will carry with him for life. And yes, he even learned how to cook dinner for a family of five! He discussed with us the opportunities he had to have lunch and spend time with the CEO of the local hospital he worked within, knowing how rare that level of access truly was, while also being equally moved and humbled by spending time on the hospital floor speaking to and comforting patients who often had no one else in their lives to speak with during their difficult ordeal.
Through his time with BVSM, Christian learned not only what it means to be in service with the community but more importantly, why his service is so desperately needed. After being tired and slightly worn out by college, we saw him become fully re-energized and excited to move onto his next chapter of his education. Upon completion of his time with BVSM, Christian was accepted into the Perelman School of Medicine at the University of
Pennsylvania, where he is now just finishing his third year. I know how much he cherished his time with BVSM, the memories he made, and the friendships that he gained, and that he'll take that experience with him through the rest of his life.
– Michael & Kathy Wood | Reflection on son's BSVM year (Christian Wood, BSVM 2018-2019)
Review our benefits or contact us with further questions.