Our Mission
Bon Secours Volunteer Ministry, sponsored by the Sisters of Bon Secours, provides the opportunity for women and men to participate in the Sisters' commitment to justice in radical solidarity with the poor, the suffering, and those most in need.
By sharing the Bon Secours charism of compassion, healing, and liberation, the ministry nurtures and sustains individuals in their personal and communal journeys towards transformation through service with others.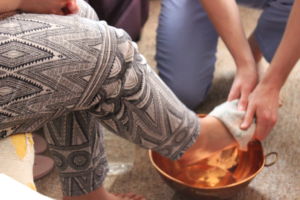 Our History
Bon Secours Volunteer Ministry (BSVM) is an extension of the work of the Sisters of Bon Secours in West Baltimore for over 150 years. The Sisters established Bon Secours Volunteer Ministry in 1999 to create a way for lay persons to share in their charism of compassion, healing, and liberation. For the past twenty years, the program has supported individuals throughout a year of full-time service, primarily in Baltimore, Maryland. As of August 2018, the BSVM community has expanded to Richmond, VA, as well!

Our Focus
While participating in a year of service, Bon Secours Ministry Volunteers live together in intentional community, commit to a simple lifestyle, and reflect on service and justice throughout the year. The program provides housing, medical insurance, a monthly stipend for food, household and personal needs, and access to transportation.  Volunteers share meals, prayer, social activities, and household chores.  All Bon Secours Ministry Volunteers receive an orientation and participate in three retreats during the year to enrich and deepen their service experience.
Live Compassionately, Receive and Offer Healing,  Share in Liberation.
Learn about our program pillars.