Framework
What does tending to an urban garden with a neighborhood resident, talking with patients alongside a hospital chaplain, and finger painting with a toddler all have in common? These could all be snapshots from a day in the life of a Bon Secours ministry volunteer, and more broadly, these seemingly wide-ranging activities all relate to the public health of a community. Public health work aims to remove systemic barriers that have resulted in health inequities, and  Bon Secours Volunteer Ministry supports volunteers in identifying these barriers and accompanying neighbors as they overcome them.
Since the Sisters of Bon Secours were founded over 150 years ago to first serve the sick and marginalized in Paris, the ethos of Bon Secours has been driven by ensuring everyone has a fair and just opportunity to achieve optimal health and well-being. Now, Bon Secours Volunteer Ministry carries this spirit forward in Baltimore, MD and Richmond, VA, where volunteers live as neighbors and serve in ministry placements that improve the public health of their communities.
Ministry Placement Sites
Ministry placement sites range from assisting with a mobile health clinic to aiding classroom teachers at a local school, from patient advocacy in a hospital department to connecting adults to job and housing supports, and a wide variety of other opportunities in between. In filling these roles and directly knowing, loving, and serving with their neighbors, volunteers confront injustices like poverty, racism, and other forms of oppression, and chip away at them in pursuit of healthier, stronger neighborhoods.
Unique to our volunteer ministry, all ministry placement sites are part of the Bon Secours Mercy Health System or sponsored by the Sisters of Bon Secours, which means that every volunteer, at every site, is surrounded by colleagues working for the same mission. Furthermore, it means that there is a seamless connection between the pillars of volunteer formation and the placements where volunteers are called to live out these pillars. Each volunteer is tapping into his or her unique gifts and stepping into different responsibilities, but working under the same banner that dates back centuries: to provide good help to, and in turn, promote good health of, those in need.
Meet our current volunteers and see where they offer their gifts!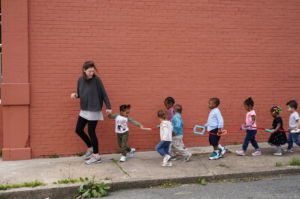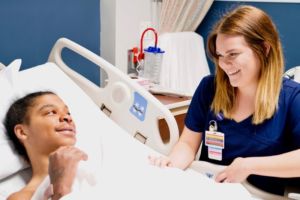 Discerning Your Placement
Our ministry volunteers come to us with a variety of educational backgrounds; recent volunteers have majored in biology, Spanish, theology, pre-health, education, business, and more. Volunteers also come to the program with a myriad of stories, experiences, talents, goals, and hopes for the future, and this all shapes the journey volunteers take through their year with BSVM. A majority of volunteers are considering post-graduate education after their service, often in health professions but spanning a much broader variety of pursuits as well.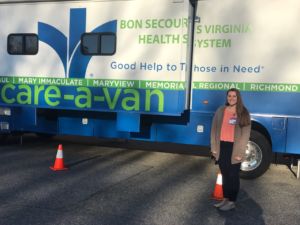 As a program, we take backgrounds and future aspirations into strong consideration as we match volunteers to their ministry placement sites. Throughout the interview process, BSVM staff listen closely to discern which placement best uses the volunteer's capabilities and passions while directly addressing the needs of the community.
One of the most powerful components of our ministry placement sites is that all of them offer volunteers a holistic view of public health and community wellness, and the structural barriers that, historically and presently, hold many communities back. Every volunteer will bear witness to the challenges of poverty, racism, and oppression, and through their daily ministry of presence, develop a fluency in how to address these challenges especially by building relationships and centering compassion, healing, and liberation.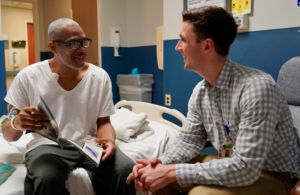 Regardless of what specific placement one may have, or what direction one may go after the year with Bon Secours Volunteer Ministry, volunteers take with them an understanding of how social determinants of health shape individuals and communities, and carry a toolbox they can use for fighting against injustice and inequity anywhere. Volunteers may become psychologists, nurse practitioners, teachers, doctors, nonprofit directors, researchers, or follow any other professional pursuit, and will be well equipped to use, to draw strength from, and to share the Bon Secours charism of compassion, healing, and liberation.
Begin your application here.