Sister Rose Marie Jasinski elected congregation leader of the international Congregation of the Sisters of Bon Secours
Sister Elaine Davia elected leader for Sisters of Bon Secours USA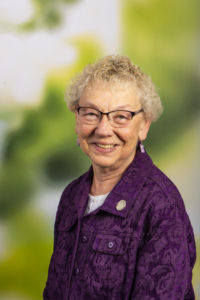 MARRIOTTSVILLE, Md.—On Oct. 4, 2019, the Congregation of the Sisters of Bon Secours, at its general chapter meeting held in Marriottsville, Maryland, elected Sister Rose Marie Jasinski as the congregation leader of the Congregation of the Sisters of Bon Secours. Jasinski, a Baltimore native and sister from the United States, just completed 10 years as leader for the Sisters of Bon Secours USA and served on the congregation team. Additionally, Sister Elaine Davia was elected leader for the Sisters of Bon Secours USA.
The international congregation is comprised of sisters from five countries: the United States, France, Great Britain, Ireland and Peru. Jasinski's professional career has included ministries in nursing in Bon Secours hospitals and in the Bon Secours Home Hospice Program in Baltimore, Maryland.
In addition to serving on the congregation team, she served in leadership positions with the Sisters of Bon Secours USA for many years.
Jasinski currently serves on the boards of directors for Mercy Housing and Bon Secours Mercy Ministries. She also recently served on the national board of the Leadership Conference of Women Religious.
After graduating from Bon Secours School of Nursing in 1963, Jasinski entered the community in 1965. She received a bachelor's degree in nursing from the Medical College of Virginia at Virginia Commonwealth University and a master's degree in Christian spirituality from Creighton University in Omaha, Nebraska.
"I am honored and privileged to have been elected to lead the Congregation of the Sisters of Bon Secours at this time and will continue to build on the rich tradition of those very strong women who have gone before me while helping the congregation evolve to meet today's needs. It has been such a gift in my life to be part of this community and to have shared in the dramatic shifts and changes over the past 55 years. I am forever grateful for the time spent on the previous team with Sister Pat Eck's leadership. It was inspiring, challenging and filled with many positive, hopeful outcomes that have brought us to today," said Jasinski.
Outgoing Congregation Leader Sister Patricia Eck said, "We are so pleased to welcome our new congregation team. We are thrilled that Sister Rose Marie has accepted the leadership of the congregation for these next five years. She brings great experience and creativity to this calling and will lead with care and audacious hope. Sister Rose Marie is joined on the congregation team by Sister Eileen O'Connor from Ireland, Sister Elaine Davia from the United States and Sister Rosa Elena Gomez Navarro from Peru. We are so blessed as we boldly step into the future."
The congregation's international offices are located in Marriottsville, Maryland, on the campus of the Bon Secours Retreat and Conference Center.
Sister Elaine Davia, the newly elected leader for the Sisters of Bon Secours USA, joined the congregation in 1964 and professed her final vows in 1975.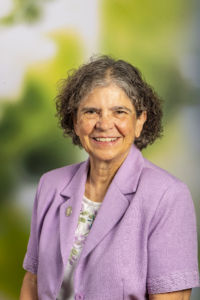 Davia was a nurse practitioner at several Bon Secours facilities on the East Coast, working in rural and urban areas. Davia opened a clinic in Portsmouth, Virginia, from 1998 to 2005 for the underinsured. She also opened a clinic in Arcadia, Florida, to care for migrant farm workers from 1998 to 2005 and ministered briefly in South Africa and Appalachia. Her focus has always been on helping people stay well with a special calling toward serving those who are economically poor.
In recent years, Davia was a nurse practitioner at Access Carroll in Westminster, Maryland, and at Bon Secours Hospital in Baltimore. Among the boards she has served on were Bon Secours Health System, Bon Secours Hampton Roads, Mary Immaculate Hospital and the National Religious Formation Conference. She currently serves on the board of Bon Secours Mercy Ministries.
For the past 15 years, Davia has been formation director for the Sisters of Bon Secours. She has also served in various leadership roles over the years.
A graduate of Bon Secours School of Nursing, Davia earned her diploma as a registered nurse in 1970. She continued her education, earning certification as a family nurse practitioner from the University of Virginia, a bachelor's degree from Regents College and a master's degree in pastoral counseling from Loyola University in Baltimore.
"I am moved and humbled to be invited into this role, and also excited as I look forward to working with the new team and sisters in implementing the new directional statements from our chapter. Thank you to all who have offered prayers and support for me in this time of transition," Davia said.
The Congregation of the Sisters of Bon Secours (www.bonsecours.org), a religious congregation of Roman Catholic women founded in Paris in 1824, brings compassion, healing and liberation to those it serves, especially those who are sick, suffering, poor or dying. Whether in health care, education or social services, in hospitals, senior care facilities, clinics or parishes, in towns and cities or isolated villages, Bon Secours responds to a universal need: to provide to all who suffer a reason to live and a reason to hope.
###