By Sr. Fran Gorsuch, Vocations Director, USA
Have you ever felt truly welcomed, or felt really unwelcomed? We have all had the experience of feeling wanted and of feeling that we are seen as intrusive or not wanted. On this celebration of Juneteenth, known in the African American community as the second "Independence Day," it is important to remember that almost two and a half years before, on January 1, 1863, President Lincoln signed the Emancipation Proclamation. It took that long for the abolition of slavery in Texas and more generally in the Confederate South. This is a holiday in the African American community but one that should rightly be celebrated by all of us. It is the day in which an entire community of people were officially welcomed as free. The irony is that the deep-seated prejudice and laws of our country have still not truly welcomed many, many people into our midst. There are many who are still not truly free because they have not been welcomed the way they deserve
Today we celebrate the ability for members of the immigrant community who were brought here as children to stay in the only country they know as their home. Yet they are not yet recognized as US citizens. We need to continue to advocate and work, as well as pray, for a full welcome for the DACA recipients into our midst.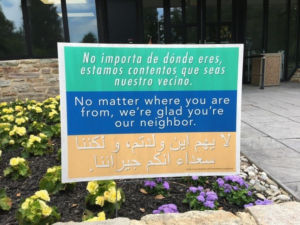 The month of June is also celebrated as Pride month. We Sisters of Bon Secours see our calling and mission to welcome all people, including members of the LGBTQ+ community, as loved by our Creator God, and by our brother Jesus. When we begin with the conviction that EVERY PERSON is loved by God we can be pretty sure that we have a strong moral compass to guide us.
In the midst of so many crises facing our nation, our world and our Church, I want to share some wonderful words from Sister Ita Ford, a Maryknoll Missionary, in a letter she wrote to her 16 year old niece shortly before Ita and three other Church women were raped and murdered in El Salvador:
"I hope you come to find that which gives life a deep meaning for you. Some thing worth living for — maybe even worth dying for – some thing that energizes you, enthuses you, enables you to keep moving ahead. I can't tell you what it might be – that's for you to find, to choose, to love. I can just encourage you to start looking and support you in the search."
Please be assured of my prayers, and please let me know if there is any way I can be a support to you!
With my love,
Your Sister, Fran