The article below on the newly designed Community Resource Center, started by the Sisters of Bon Secours more than 30 years ago, was featured in The Daily Record newspaper on June 10, 2022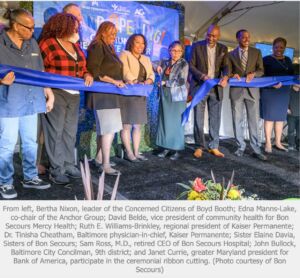 Bon Secours Community Works, along with Kaiser Permanente, the Anchor Group, elected officials and west Baltimore residents celebrated the grand opening of the Bon Secours Community Works Community Resource Center at 31 S. Payson St. in west Baltimore April 29 with an open house and ribbon-cutting ceremony.
The state-of-the-art Community Resource Center, specifically designed by and for the west Baltimore community with a focus on youth services, will restore an essential community gathering space in the Boyd-Booth neighborhood that has been shuttered for decades.
The Community Resource Center will expand upon Bon Secours Community Works' long standing workforce development and financial services programs in the west Baltimore community by offering economic development such as financial education, as well as workforce development including job training.
The center also features a special focus on youth services offering west Baltimore youth access to educational programming, wellness activities and the return of after-school programming. The center's site was formerly the home to the Hollins-Payson Branch Library before it closed in 2001.
Offering a variety of walk-in and scheduled programming for both children and adults, the community center will feature an art room, basketball court, financial wellbeing center, health care training room, a job hub, media library room, multipurpose rooms, a recording studio, a rooftop garden and a yoga and fitness studio. It will also feature free Wi-Fi and laptops to check out and use throughout the building.