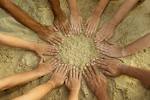 …Christmas celebrates the dawn of the Light of the World. The powers of darkness are overcome by his coming to share our life. The long reign of sin is ended and grace has been poured out upon the earth. The Sun of Justice has arisen, and evil is vanquished."
Perhaps the hardest thing to remember about Christmas is this. "It celebrates the incarnation, not just the nativity. The incarnation is an on-going process of salvation, while the nativity is the once-for-all-historical event of Bethlehem. We do not really celebrate Christ's 'birthday,' remembering something that happened long ago. We celebrate the stupendous fact of the incarnation, God entering our world so thoroughly that nothing has been the same since. And God continues to take flesh in our midst, in the men and women and children who form his body today. And the birth we celebrate is not just the past historical event but Christ's continuing birth in his members, accomplished by the power of the Spirit through the waters of baptism.
…What we celebrate is our redemption in Christ and the transformation of all creation by the presence of the divine in our midst.
Sourcebook, 1996, Liturgy Training Publ.