Join us in congratulating Hampton Roads Associates Pam and Johnny Phillips! Pam tells us:
Johnny and I celebrated our 50th Wedding Anniversary after meeting on a blind date just 8 months prior. Our Anniversary was June 9 !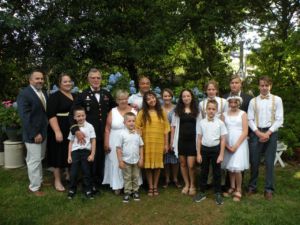 We were married in St. Louis, MO. Unfortunately Johnny had to report in at Ft. Riley, KS as a brand new Army officer the next morning. Off we went, with $50.00 in our bank account and a 1971 Ford Pinto filled with our only worldly possessions ( 2 suitcases and other treasures in the form of wedding gifts including Avocado green-pots and pans …. which I did not know how to use.) After 24 years of Army life, we finally settled down in Venice, Florida.  I served as the Rehabilitation Director at Bon Secours Maria Manor where I first met Sr. Angela, Sr. Mary Catherine Rogers, and Mary Odette, Mission Director at Maria Manor.  Attending these gatherings and becoming an Associate made me feel that I was welcomed and cared for as we explored our spirituality together.  A few years later, Johnny also became an Associate and this relationship enriched our spirituality and love for one another.
Ah, from humble beginnings – fast forward 50 years! One loving, generous, thoughtful and kind husband, two amazing daughters, two sons-in law I dearly love, ten incredibly gifted grandchildren and numerous small dogs.  I have been blessed more abundantly than I ever imagined possible !