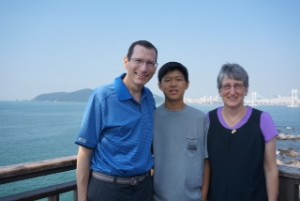 Dan, his wife Sherryan and son Eli
Dan Kirkpatrick is an ordained Lutheran minister (ELCA) and has been serving as chaplain at Bon Secours St. Francis Health System in Greenville since 2002.  He made his first commitment as a Bon Secours Associate with the "inaugural" group of Greenville Associates in 2007.
Dan's introduction to the Sisters of Bon Secours was in 1989 during his Clinical Pastoral Education residency at Bon Secours Maryview Medical Center in Portsmouth, Virginia.  Dan recognized his connection with the Bon Secours charism during those two formative years.
Although Dan moved to Houston, Texas in 1991 with his wife, Sherryan Yarbrough, to serve at a children's crisis center following his residency, he reconnected with the Bon Secours Health System when he moved to Baltimore in 1995.  In Baltimore, Dan served as a hospice chaplain for the Visiting Nurse Association Hospice of Maryland in Baltimore for 7 years.  While in Baltimore, Dan met other chaplains associated with the Bon Secours Health System, and the Baltimore Area Hospice Chaplains Association made annual retreats at the Bon Secours Retreat Center.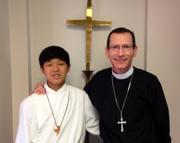 Dan and his son Eli
Dan and his wife celebrate their 24th wedding anniversary this August.  Sherryan, who is also a seminary graduate, expresses her gifts for ministry through her work as a K-5 (kindergarten) teacher.  Their one child, Eli, is 15 years old and a rising sophomore in high school. Lola, their miniature schnauzer, constantly reminds all of them of the importance of celebrating life every day!