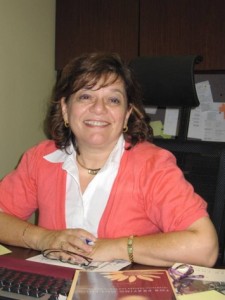 Donna Meyer is an Associate from Greenville, SC, and Director of Mission and Ministry Formation for the Bon Secours St. Francis Health System. She remembers Sr. Dorothy Brogan coming to her office, talking to her about the Associates, and asking if she'd be interested. The next day Sr. Dorothy brought her the history of the Sisters and so her journey as an Associate began.
From an early age she was interested in health and spirituality and felt called to serve others. Donna has a diverse nursing background.  She worked in critical care areas, community and college health, and an inner city clinic.  The work at the clinic reinforced this call as she learned to find grace in places where it seemed absent.
Donna's attraction to spirituality led her to study theology, where she developed an interest in spiritual direction and formation, which she continues to do. She is grateful for all the stories people have shared with her, for her teachers, her spiritual directors, friends, and family—all have made an impact on her life.
She and her husband, Paul, have three adult children, four grandchildren, and two very large goldendoodles.