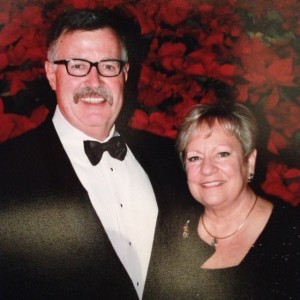 Pam joined the Associates in 1996 while working at Bon Secours Maria Manor in Florida.  She believed her work at that facility was a calling more than a job. "The presence of the Spirit was everywhere and touched the patients as well as the healthcare staff".  She definitely knew she was in the right place after she saw, from her car, an apparition of the Blessed Mother standing on the Maria Manor balcony!  Pam continued in the Associates while working at Bon Secours Venice Hospital and Bon Secours DePaul Medical Center.  She is most proud of her Associates-inspired work involving healthcare giver education regarding recognition and reporting of human trafficking in health facilities across Hampton Roads.
John joined the Associates in 1999 as a 49 year-old Registered Nurse rookie after a 23 year U.S. Army career.  "The charism of the Sisters matched my reason for pursuing healthcare, so becoming an Associate was a natural thing to do". Recently retired, his beekeeping hobby is a new passion. He best enjoys the Associate group prayers and attributes Associate activities to his continuing spiritual growth.
Pam and John were married in 1972 and live in Norfolk, Virginia.  Their two daughters have blessed them with eight grandchildren (with another due in April!).