Linda Mastro discovered the Bon Secours Retreat and Conference Center in Marriottsville, Maryland, in 1998 soon after she relocated from Pennsylvania to Maryland. She has retired early from a career as a corporate human resources executive and was searching for her purpose for the next phase of life.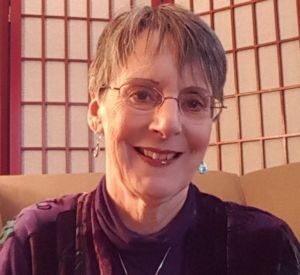 Linda had been raised Catholic and educated in Catholic schools through high school. Like many young Catholics, she put aside her inherited faith and focused on college, career, and more secular pursuits. After her first retirement in 1998 Linda pursued many different paths, including certification as a yoga teacher, exploration of Eastern spirituality, and studying holistic health practices.
In the early 2000's she began a new career as a marketing and communications professional in the health care field.
While still working full-time Linda continued her studies. She earned a masters of arts and a graduate certificate in wellness coaching from Tai Sophia (now the Maryland University of Integrative Health) in Laurel, Maryland. Her coaching work included private consulting, retreat leadership, and co-authoring the book Petite Retreats: Renewing Body, Mind, and Spirit without Leaving Home. The Bon Secours Retreat and Conference Center welcomed Linda as a retreat leader, which was another opportunity to build an even deeper relationship with the charism of the Sisters of Bon Secours. Along the way Linda was nudged back to the Catholic Church. This movement was facilitated, in part, by regular retreats at the Bon Secours Retreat and Conference Center. There she met Sisters of Bon Secours and experienced a more gentle, welcoming faith that encouraged curiosity about God and her relationship with God.
By 2008 Linda was an active parishioner at Sts. Peter and Paul Parish in Easton, Maryland, where she continues to serve as a liturgical minister. Community – joining others in faithful prayer – was one of the most rewarding experiences of reuniting with the Catholic Church. This same search for community drew Linda to the Bon Secours Associates. For many years, though, living on Maryland's Eastern Shore was an obstacle that prevented her from going through the Associate formation process. While discerning if the Associates path was for her, Linda completed the spiritual directors training program when it was first offered through the Bon Secours Retreat and Conference Center in 2017.
In 2018 Amy Kulesa, Director of the Bon Secours Associates, helped Linda and others overcome the distance obstacle by offering the Associate formation program through an interactive online video process. Linda made her first commitment as an Associate in March of 2019. Friends were curious about this step. They wondered if she was becoming a nun. Linda reassured them that she was still a lay person. However, being a Bon Secours Associate was an opportunity to follow the lead of the Sisters of Bon Secours, whose mission and charism calls the Associates to be channels of good help through actions and attitudes that promote healing, compassion and liberation.
Being an Associate has deepened Linda's Christian faith and allowed her to share it with others with even greater love and peace. Even when she cannot regularly join the Sisters and other Associates in active mission work, she relies on the vision and the mission of Bon Secours to guide her as she shares her talents and experiences with others as a spiritual director, retreat leaders, and friend.
Linda is a member of the Bon Secours Associates Leadership Council. This group of Associates, in partnership with the Associate Director and staff, expands the sense of community among the Bon Secours Associates and with other groups affiliated with Bon Secours; promotes the growth and diversity of the Bon Secours Associates; and keeps the vision and mission of the Sisters of Bon Secours as a working guide for Associate life.
Her most influential spiritual teachers are Richard Rohr, Henri Nouwen, and Joyce Rupp.