The Bon Secours Volunteer Ministry year of service is structured around five pillars: learn through service with others, grow spiritually, live simply, develop community, and practice God's justice. While all the pillars are interconnected, particular pillars are highlighted during different times throughout the year. At this time of the year, the volunteers are reflecting on "Practice God's Justice."  They are exploring structural injustices and the ways in which these injustices affect individuals and families.
One recent way that the volunteers dug into this pillar was through their attendance at a lecture by Bryan Stevenson at Loyola University Maryland. "Bryan A. Stevenson is an American lawyer, social justice activist, founder and executive director of the Equal Justice Initiative, and a clinical professor at New York University School of Law."1
After years of working with the incarcerated, including those wrongfully convicted and those on death row, Mr. Stevenson offered his four suggestions for breaking down systems that perpetuate injustice. His first urging to the audience was to get proximate. He shared that it is only in proximity to the poor, suffering, and marginalized that we can begin to understand what we need to understand and learn what we need to learn. So often we are instructed never to go to "that part of town." This culture of avoidance hurts both the marginalized and the privileged. Instead, he urges us to embrace each other—despite our differences, a simple hug, the utterance of "I love you," or our mere presence dramatically changes the way we see each other and ourselves.
This emphasis on proximity and a culture of encounter has long been at the heart of BSVM. Volunteers intentionally choose to move into an under-resourced community where many of their neighbors are materially poor. Here in this neighborhood so often overlooked, they form deep relationships and learn experientially about the hardships their neighbors face. Simultaneously, they experience how deeply their neighbors love and the joy that flows from these interactions. Their relationships lead them to confront injustices with a personal conviction. They also often learn that the simple act of accompaniment is an act of justice. The current volunteers have been leaning into the beauty of proximity and forming friendships with their neighbors in Southwest Baltimore since August. Talk to any one of them and you will hear how fundamentally these relationships have changed their lives and how much they have learned–just be prepared to listen for a long time! Following in the footsteps of the Sisters of Bon Secours, they are continually learning to embrace those who are broken; in doing so they receive lavish love, the healing power of truth revealed, and the hope needed to continue on beating the drum for justice.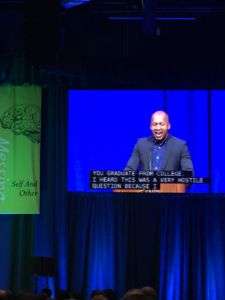 1"Bryan Stevenson." Bryan Stevenson | EJI , Equal Justice Initiative, eji.org/bryan-stevenson.