Volunteer Name: Delaney Weiland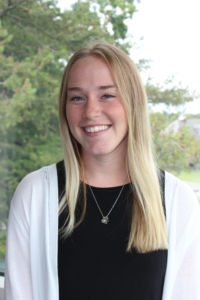 Alma Mater: University of Notre Dame
Placement Site: Family Support Center, Bon Secours Community Works in Baltimore, MD
Describe an influential experience that led you to a year of service.
During the fall semester of my junior year, I participated in a seminar over our week-long fall break trip to a homeless day center in Arizona. It was wonderful because the primary aim of the center was to facilitate relationship building. Patrick, a guest at the center, asked me, "What does love mean to you in one word?" I stopped in my tracks, because he had only known me for two days. How was he already comfortable asking such a deep, personal question? Although I had no idea what to say and muttered something back, he had his answer already: "Surrender," he said. Love is surrendering to another person, being vulnerable and fully present in community, as well as to God.
Patrick taught me a couple of really important lessons: (1) the control and privacy that I felt over my life was a luxury and (2) those who are most ignored by society are often the people that have the greatest wisdom and most important stories to tell. He taught me about treating other people with dignity and about being open to people. He compelled me to question a lifestyle that isolates me from those who are marginalized, and challenged me to instead pursue a lifestyle that prioritizes listening and learning from all people.
What is the best piece of advice you have ever been given?
My grandma is one of my best pals in the world. Ever since I was a little girl, her goodbye spiel has stayed the same. After the hug, she holds my hands and says, "God bless you. Make good choices. Be farekel" (her goofy pronunciation of 'careful). As an eight year old, the 'making good choices' thing definitely meant listening to my mom and not crossing the street without looking both ways. However, as she's drilled these phrases into my brain for 22 years, I think their meaning and intention have changed. When my grandparents were younger and more active, they were the epitome of giving. My grandfather was a dentist and was known by his patients to be the warmest and most compassionate guy they knew; my grandmother was known to be steadfast in her beliefs, especially when those beliefs involved supporting the poor and taking care of the environment.
As I grew, so did the meaning of her advice. As a 22 year old, her advice to make good choices seems to imply that I choose my various life paths wisely—particularly, that the paths that I choose cause me to be 'full of care' for those around me and the world around me. She recently told me that making good choices involved being more Christ-like. Even when that feels like a high standard, my grandma is always there to remind me to begin by choosing to care and love.