Volunteer Name: Fiona Shorrock
Alma Mater: Loyola Marymount University
Placement Site: Care-A-Van Mobile Health Clinic, Bon Secours Richmond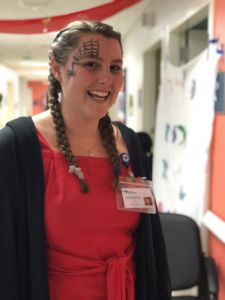 Photo from the Richmond Community Hospital Fall Carnival
Who has modeled being 'good help to those in need' in your life? Describe why you are inspired by this person.
Earlier this year, I lost my grandfather, my Bapa, Hal Shorrock, at the age of 94. My grandfather lived most of his life in the service of others, providing good help to those in need on every corner of the earth he touched. He joined the Navy after Pearl Harbor and spent the majority of WWII in language school studying Japanese. After the war, he attended Yale divinity school where he met my grandmother and decided he was called to Japan where he lived, worked in education, and provided/organized aide work on and off for the next 40 years. He had stints in South Korea, Switzerland, and California. He brought aide to those suffering the effects of wars, connected communities, and made the world a smaller and happier place for those he knew. There are countless stories of his bravery, acts of kindness, and pure joy, but I will always be most grateful for the values he instilled in my dad, and in turn, me. Bapa didn't care where you were from, what language you spoke, or what you looked like. Instead he delighted in these differences and treated everyone he encountered with dignity, respect, and honor. My Bapa was a warrior of social justice, a jovial father and grandfather, and always good help to those in need. I miss him, his weekly Sunday evening calls, and wish I could talk to him about my experiences thus far with BSVM. Still, I know he is proud of me and my choice to jump head first into a new community, growing in service with and for others. I will always be grateful to have had a lion like him who has all my life inspired me to be good help to those in need.
What is one item on your bucket list?
One item on my bucket list is to make it to every National Park in the US. I think National Parks are a treasure that beautifully display the grandeur of the diverse landscapes around us. Some of my favorite memories as a kid are those of being mesmerized by the giant sequoias in California, or marveling at the sheer size and magnificence of Half Dome Rock at Yosemite Valley. Having lived in California for most of my life, I want to see so much more beyond my home state. As it relates to the five BSVM pillars, I feel like I grow spiritually every time I envelop myself in the great outdoors. Nature has so much to teach us when we step outside of our big cities and can breathe in the fresh air. One of my favorite quotes is by Ralph Waldo Emerson, "Live in the sunshine, swim in the sea, drink the wild air." There is so much life to be wondered at and so much wild air to drink; I can't wait to stop and take a deep breath in all 58 National Parks.