Volunteer Name: Jocelyn O'Kane
Alma Mater: College of the Holy Cross
Placement Site: Patient Liaison, Diabetes Education, Bon Secours Baltimore Hospital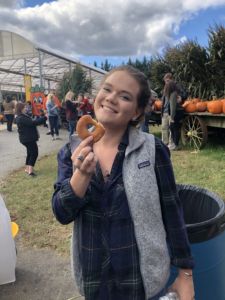 Who has modeled being 'good help to those in need' in your life? Describe why you are inspired by this person.
My grandfather, Steve, always worked hard to help everyone around him, living by the MLK quote, "service is the rent we pay for the space we occupy." He lived through his service up until 5 months before his death this past February, as he continued to volunteer at the information desk in our local hospital. My grandfather loved serving others, and led by example for first my mother, and then for me and my three siblings. In our family, service wasn't admirable, extraordinary, or remarkable; it was expected. My grandfather never gave up that portion of his values, and I knew the pride that filled him in seeing his 7 grandchildren continue to live out those values. When thinking about applying for BSVM, 2 months after his death, I knew that he would have been proud of my commitment to serve others after college, and I was so excited to continue his legacy in this way. Every morning I think about Steve, his deep passion to serve others, and the light touch of humor he put into every interaction, and I strive to continue that presence in my work at Bon Secours Baltimore Hospital.
What have you found surprising about your experience with BSVM thus far?
While I had known about the emphasis that BSVM placed on community and living intentionally, I have been completely blown away with the amount of support and love that I consistently feel around me. The staff at BSVM, along with the Sisters of Bon Secours, are so incredibly supportive, and so excited that we chose to go on our journey of service with them. My community members, Jonah, Paula, Christian, and Mara, are beyond supportive and understanding, and we strive every day to have intentional conversations about our days and our thoughts on our West Baltimore community. Besides the constant flow of support and love, my community also works hard on injecting humor into our everyday lives, a necessity after some long, arduous days in the hospital. Living with 4 other people that share your values and passions is incredibly empowering, and I am so excited to continue learning from one another for another 6 months. On a lighter note, I still can't believe that we're successfully feeding 5 young adults on $100 per week!