Volunteer Name: Paula Hastings
Alma Mater: University of Notre Dame
Placement Site: Behavioral Health, Bon Secours Baltimore Hospital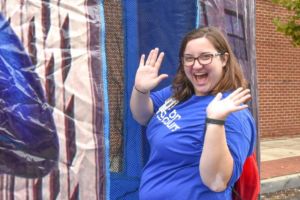 Describe an influential experience that led you to a year of service.
"Katie is falling asleep again." Mrs. N pointed out to me as I went around helping students with their reading. The 4th and 5th graders in this summer reading camp were often at a 1st or 2nd grade reading level, and I was trying to keep them focused an assist them however I could. I went over to Katie and sat next to her on the floor and asked her to read out loud to me. She could barely keep her head up so I asked her why she was so tired today. She then proceeded to tell me that in her foster home with about 20 girls in it, she shares a room with 4 other people who are up at all hours of the night and so she barely gets any sleep. No wonder she was falling asleep in class!
This experience, and many other service experiences that I had throughout college, sparked a desire in me to know the reasons behind behaviors and know more about others' experiences. I could have simply let Katie keep reading or let her fall asleep, but in talking to her I got to know the reason she was so tired, and know a part of her hardship. It reframed how I approached working with the kids that summer and with everyone else I have encountered since. You never know what someone has going on in their lives, but being with them and hearing their stories can help facilitate what Father Greg Boyle calls "Kinship on the Margins". I knew then from this experience that I wanted to go more in depth in building kinship on the margins, and spending a full year in Baltimore was the perfect way to do this. In this year so far I have been able to build relationships with people and hear their stories. I have a kinship that I will carry with me for the rest of my life.
What is the best piece of advice you have ever been given?
It was my senior year of high school and I was in the midst of making my decision for what college I was going to go to. I had a few acceptances and was waiting to hear back from some other schools, and the waiting was stressing me out a ton. I distinctly remember a Sunday night in which I was ranting to my mom about the stress of not knowing and having to make this decision, and she told me to "just give it up to God". In that moment, I decided to stop stressing and follow my mom's advice. The very next day, my acceptance letter to Notre Dame and my future home came in the mail. From that day forward, whenever I have felt myself getting overwhelmed by decisions or things on my to do list, I hear my mom's voice in my head to "give it up to God" and I submit myself to Her will. Over the years, this phrase has also transformed as I remember to give all the good that I do up to God as well. I offer up my good works and my anxieties and my mistakes and every part of my life to God, remembering that She's got me on the right path and there's no reason to stress when I'm in the palm of God's hand.