Question 1: Tell us a little about yourself! How long have you been an active member of the Young Adult Ministry and how did you hear about us?
Hello! I am a nurse, I have a sister and two amazing little nieces, I am a Baltimore native, and have a good balance between staying active and sitting down to enjoy a good book. My specialty is Emergency Medicine, but I also have worked in Intensive Care, and two different procedural units in the hospital. Yes, I root for the Ravens, O's, and the Terps, and my favorite seasons are Fall and Winter (I'm not crazy, I just love to ski). I have been a part of BSYAM for almost four years. I was introduced to Lauren DeSmit by a high school friend who had been to the Townley Farm retreat before (location for our Young Adults' bi-annual retreats). What started as casual game nights at the DeSmit's house, grew into a deeper desire for community and acceptance, and after attending a summer Farm retreat in 2019, the BSYAM has become home.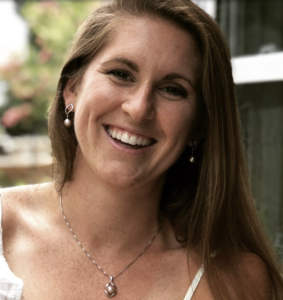 Question 2: Young Adults have many choices about which Young Adult Ministry they choose. What drew you to the Bon Secours Young Adults?
I have felt a strong sense of acceptance and love in the Bon Secours community that I have never experienced from any other young adult group. There is a freedom in being surrounded by strangers and yet feeling completely myself.  In a culture of hiding behind screens, fashion, filters, and distorted expectations, the BSYAM has satisfied a longing in my heart to "come, rest, and take what you need."  The Charisms that the Sisters have lived by year after year are so incredibly evident in all of the members of this community; I cannot count the number of times I have been shown deep compassion, I have had friends walk with me in my healing, and have felt the liberation of Christ through the members of His body in Bon Secours.
Question 3: In your daily life, how do you see yourself carrying out the sisters' charism of compassion, healing, and liberation?
It may seem obvious, but I have been practicing these charisms in my job every day as a nurse for the last six years. Interestingly, the Sisters of Bon Secours have given new meaning to these charisms and it feels like I see my patients through a new lens. To have compassion, I don't need to have all the answers, I simply need to see the person in front of me, to listen, and respond in love. Healing goes deeper than a diagnosis and medication. It is a gift to see more than someone's symptoms, but rather their fears, worries, and doubts, and to speak truth and shine light into the darkest places to heal their soul. I believe liberation flows from compassion and healing, whether that means helping a person feel confident to change their lifestyle, to say a prayer of hope even when it's hard to, or to reach out to a family member to ask for help, ultimately to take a step in the direction of true freedom.
Question 4: If you could talk to other Young Adults who are thinking about joining a ministry, what would you say about the Bon Secours Young Adult Ministry?
If you want to have conversations that lead to deeper thinking, if you want to feel Jesus' presence in the people in front of you, if you want to laugh until your stomach hurts, this community is for you. We were not made to be alone, and Christ wants us to know and understand His pure, relentless, powerful mercy and love through each other. I have grown so much in my faith because of BSYAM, and have been pushed to grow into the person God created me to be. I am changed for the better.