May 31 was the feast of the Visitation. We read in Scripture that Mary goes to visit her cousin Elizabeth who is pregnant too. Luke's gospel says when these two women greeted each other, a sense of joy surrounded them that's even felt between the babes in their wombs.  What happens when you hear the word of God in your heart? Is there a sense of joy? Who do you share that with? And is that joy contagious and felt by others? Watch the facial expressions of Marian Elizabeth in this movie clip from The Nativity Story. https://youtu.be/sAtO9nt7Xnc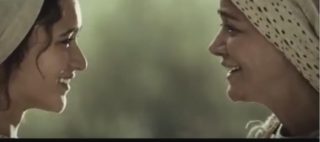 Who can't identify with wanting to visit a close family member or friend to share either good news or something of importance to ourselves?  Mary responds to cousin Elizabeth, "My heart proclaims the greatness of the Lord and my soul rejoices in God my Savior who visited me, a poor and lowly girl." It's pretty incredible to sense within our own hearts God's call to us to follow Jesus in a particular way we would not have otherwise thought of. Our reaction may reflect Mary's response to Elizabeth, I'm an ordinary woman yet God looks favorably on me. Wow!
Can you believe that God looks on you with love? Is it not incredible? Do you feel God's love overflows your heart and there's this desire to share that with someone special? Is that not exciting?
As you continue to understand God's call to you, may you find ways to share the love of God you experience with others! May you respond generously to God's love.  And to God's call to follow Jesus in a particular way that will ultimately bring God's love to the world.
May God's love for you overflow in ways you've never imagined!
Sister Pat