What in the world captures your attention?  How do you respond to the social and political events before our eyes?  As a Christian, how is God calling you to respond?  This week immigration is on everyone's mind.  How can we not be moved by the horror of children separated from parents and detained in holding facilities on the southern border?  How do I, respond?  How do sisters respond?  Religious life by its very nature is called to prophetically challenge unjust structures that oppress.  As you discern your vocation, how do you see yourself responding to the urgent issues before us?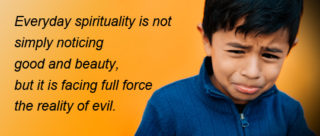 The Sisters of Bon Secours have a special interest in women and children's issues.  Praying for needed graces to address injustice, educating, taking stands on issues, collaborating with many others on projects, working with asylee women, writing and calling legislators, trying to influence them to compassionately, justly and morally address unjust practices and policies.  This week we publicly released our "Statement on the United States policy of family separation at the U.S/Mexico border."  Fr. Joe Driscoll, a ministry colleague shared his reflection that was titled:  Deliver us from evil: Everyday Spirituality.
Deliver us from evil
Everyday spirituality
The crossing of a shopping cart and a baby carriage at the deli counter yesterday somehow seems more poignant with the morning news continuing the horror stories at our Southern border.  I stopped my cart in the path of this mother with her child, but somehow respect for human dignity gets run over by economic and political strong will right now.  Not meaning to over-simplify the complexity of all the issues surrounding immigration, but there is a moral override that defies the give-and-take of sides right now.
Everyday spirituality is not simply noticing good and beauty, but it is facing full force the reality of evil.  Jesus knew this when in his selection of ten essential prayers he included "deliver us from evil." Jesus knew the power of the Evil One to divide hearts, and in this case, families.
I could not see the baby at the deli counter way back in the carriage, but with no conscious thought I naturally stepped back to peek in.  And there she was, eyes shining a mirror of her mother's smile and a tiny mouth opening and closing in a chatter of bubbles.
Dear Lord, a far cry from life at our Southern border.
By Fr. Joe Driscoll
Statement on the United States policy of family separation at the U.S/Mexico border
The Sisters of Bon Secours USA are deeply grieved by the agony that is being experienced by immigrant families seeking asylum in the United States and are outraged that a morally unjust policy that separates children from their parents is being implemented at the southern border as part of our country's "zero tolerance" immigration policy.
We stand in solidarity with the United States Catholic Bishops, the Leadership Conference of Women Religious and people of good will throughout our country who are raising their voices to denounce such inhumane treatment of our migrant brothers and sisters.  We join the United Nations High Commission for Human Rights in condemning this practice that "amounts to arbitrary and unlawful interference in family life and is a serious violation of the rights of the child" and we call on our government to put an immediate halt to this immoral practice.
As women of compassion and healing we commit ourselves to advocate for legislation that puts an end to the practice of family separation that is causing untold trauma and suffering. We support legislation such as The Keep Families Together Act (S. 3036) and the Humane Enforcement Legal Protections (HELP) for Separated Children Act of 2018 (S. 2937/H.R.5950) that would end the practice of family separation and provide relief to impacted families.
To our migrant brothers and sisters, we promise to accompany you on your journey not only through our prayers for your safety and security but also through our continued advocacy for just and fair migration polices.  We commit ourselves to embody Jesus' clarion call to "welcome the stranger" so that your arduous journey to the United States will truly be a journey of hope.
Peace and blessings,
Sr. Pat Dowling, CBS