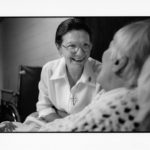 I had the pleasure of talking to Sister Mary Rita Nangle today, and my day became immediately brighter because of it. Sr. Mary Rita's first words to me were that she's old, but she likes being old because older people have so much to offer because of the wisdom they've earned over the years. She's 82-years-old and has been a sister for nearly 63 years.
Sr. Mary Rita works at Bon Secours Hospital in West Baltimore three days a week. She'll tell you she doesn't work; she is a sister presence there, but that sounds like a job to me. She started off her career as a nurse and ministered to the sick and those in need in Chad, Africa, Ecuador, France and the US. She says God's hand was involved in everything she did. In her words, "God puts you where he wants you."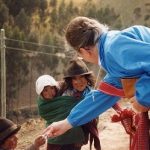 Sr. Mary Rita lives in the community she serves and says she loves living in West Baltimore, which is the Sisters of Bon Secours roots. She says the people in the neighborhood are so gracious. They might not know her name, but they know she's a sister. People light up and they wave, and they stop to talk to her. She says we are so blessed with what we have. That's something we all need to hear repeated every once in a while.
When asked what her advice would be to a young woman trying to decide if she wants to become a sister, Sr. Mary Rita says if you have the desire in your heart, you should try it. Not everyone stays, but if you really think that's where you belong, you should explore becoming a sister. She says no one in her family thought she'd stay, but they supported her decision, and she obviously found her place with the Sisters of Bon Secours.
God puts you where he wants you.