Lots of memories are playing in my mind as I go through files and papers and memorabilia here in the U.S. vocation office that I've occupied for the last 18 years.  It's hard to believe it's been that long.  The numerous women I've accompanied in discerning their call and the hundreds I've talked with, corresponded with and/or attempted to contact are very much present in this space.  I am blessed beyond imagining with the privilege of helping individuals to discover their deepest desires and call from God.  I've said it numerous times and certainly believe it, that vocation ministry is truly humbling and it is one that I will always cherish.
I am very grateful to our country leader, Sr. Anne Marie Mack, who 18 years ago saw potential in me, though at the time I wasn't 100% certain that I could fill the shoes of a vocation director.  As community we tends to see gifts in each other that we don't automatically believe we're quite capable of ourselves.  Sometimes it's only through experience that we see our gifts, or grow into them. 
Next week I begin a newly created position as the congregation vocation coordinator.  I'll continue in vocation ministry in a different capacity.  I'll be animating and enabling our sisters throughout the Congregation to engage in the work of vocations; assisting all in carrying out our vocation priorities; leading the creation of a Congregation vocation culture internationally; as well as serving as a resource to our country vocation directors.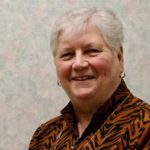 Also next week, Sr. Fran Gorsuch will begin as the U.S. vocation director.  You'll be hearing from her soon.
One can hardly leave vocation ministry without carrying the well-wishes for each woman as she continues to explore if God is calling her to be a sister.  And so know that I will carry you in my heart and pray that you will continue to be open to God's call to you – whatever that may be.
God bless and may you know the unconditional love of our good God, Sr. Pat