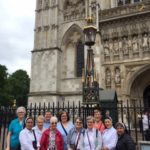 This past weekend the Sisters of Bon Secours, Bon Secours Young Adult Ministry and the Westminster Diocese Youth Office held their first collaborative peer-led young adult retreat in London, England.  US Bon Secours Young Adult Ministry leader Nicholas Stein, and Eric Clayton, a Bon Secours Young Adult experienced in peer-led retreats, mentored our London young adult colleagues for five months as they prepared to lead a young adult weekend retreat on the theme of Catholic Imagination. Our International Vocation Committee accompanied the young adults on the retreat as well – for most of the members it was their first experience of this type of retreat.
Retreat participants found themselves engaged and experiencing God in new ways.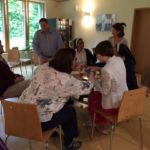 What they experienced during the retreat, is what they now want to continue to experience.  They will gather as a group with Dominic Cunliffe, our London partner, to continue their faith life journey together.
What is a peer-led young adult retreat? Who participates and what happens during the retreat? What are the takeaways? Why did we sponsor a retreat in London?
The short answer is it is young adults (20s and 30s) themselves who are mentored over five to six months who lead a retreat for young adults. A core leadership team identifies the theme and prepares and presents content during the retreat.  They organize the retreat, promote it, invite others to it, and attend to all the details. The team is mentored and guided by our Young Adult Ministry leader. During the weekend retreat participants quickly find themselves immersed in an atmosphere of welcome, companionship, faith sharing founded on touchstones of trust and surrounded by others in their 20s and 30s, and usually accompanied by some of the Sisters of Bon Secours.
It is not unusual to find first timers returning for another retreat experience, which renews and recharges them.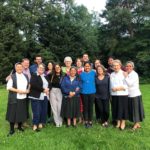 Why did we create Bon Secours Young adults?  Years before the Synod on youth, faith development and vocational discernment was ever envisioned, we raised the question of how to build bridges between young adults and the sisters. This percolated in our minds until it became clear that it was time to act and create a way to accompany young adults in their faith and life journey. As vocation director, I worked to create our young adult ministry and hired Nicholas Stein five years ago to carry out our vision of building relationships with young adults and accompanying them on their life journey.
Two years ago, feedback from young adults uncovered a desire to personalize our charism of compassion, healing and liberation in their own personal lives. We could not have dreamed how our journey with young adults has unfolded and is now taking root in other countries where Sisters of Bon Secours live and minister.