Volunteer Name: Madison Neumaier
Alma Mater: Loyola Marymount University
Placement Site: Behavioral Health, Richmond Community Hospital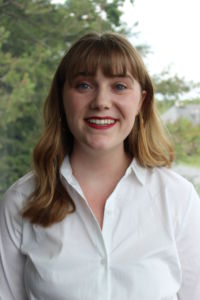 Describe an influential experience that led you to a year of service.
When I was in college, I was a part of a Service Organization called Gryphon Circle. Through Gryphon Circle I was challenged to seek experiences that caused us discomfort, and I served at both an elementary school and a skilled nursing facility. The elementary school I served at was located in South Central Los Angeles and the student demographic was different than any population I had ever worked with before. Students were from different racial, economic, and educational backgrounds than myself, and their experiences differed greatly from my own.
I began working with the Kindergarten class when I was a junior in college and continued working with these same students by volunteering in the first grade classroom during my senior year. My role in the classroom was to perform basic tasks for the teacher, and to work on both high frequency words and reading comprehension with the students. The students I had the pleasure to get to know transformed my understanding of service. Through serving with the same community on a weekly basis, I began to build relationships with those that I served. This drove me to reconsider service as human connection and a mutual understanding with one another. This allowed me to grow and challenged me to understand service in a different way than I had seen it before. If service is aimed at equality and change, relationships you gain from doing service should be both equitable and honest. My role in the classroom was not integral to student success and, in all actuality, I received more from these students than I could have ever given them in return. What I appreciate about Bon Secours Volunteer Ministry is their understanding that service is done with others. When you visit your service site each day, you build relationships and are in turn served by the life-giving moments that arise from these connections. My membership in Gryphon Circle and my experiences at service in college led me to seek out opportunities for growth and service learning. In short, these experiences led me to Bon Secours!
---
What is leading you to consider a year of service? Click here to find out how to apply!
We are currently accepting applications for the 2020-2021 year of service!

---
What have you found surprising about your experience with BSVM thus far?
One thing I've been surprised by this year is just how much I've enjoyed living simply! I've found living simply has helped me to focus on getting to know my fellow volunteers and form genuine connections with them. After a hectic four years of school, I'm very much enjoying having more free time than I did previously. Living simply allows me to spend this time getting to know my fellow volunteers as opposed to spending time on expensive activities. The intentional time we spend together, learning new skills and mindfully exploring our new home, has helped us to get to know one another and has fostered the creation of new friendships. Thus far, while living in Richmond, we've attended several free festivals, taken up new hobbies, and made sure to clean up trash in our neighborhood each evening. We find creative and inexpensive ways to have fun and explore the possibilities of these new activities together. Mark has learned to play the ukulele, Jenna has learned to crochet, and we've all spent time attempting to perfect new recipes in the kitchen. Before I started my year of service, I thought living simply would be incredibly difficult and stressful. While this is sometimes true, I've found, more often than not, that living simply has enriched my service experience!